Welcome to my Spartan Race Sprint Review of the Tampa Special Ops Race (February, 2014). A lot of things are rushing through my mind as I signed up for my first Spartan Race. After all, their bloody waiver makes it sound like you are signing off your life. "You May Die" and "Cato-strophic Injury" are just a few of the choice key phrases in the waiver. For those who have been following my P90X3 Blog, you'll know I'm knee deep into doing X3 daily. But will that be enough to endure a Spartan Race Sprint?
Today I'll share my FIRST experience with the Spartan Race. This is my first race ever. I never did a 5k, Half-Marathon, Marathon, or anything. I figured I'd go big or go home – why not?
Some of you who have not finished your first Spartan Race Sprint yet might be wondering things like:
Can I Do a Spartan Race Sprint?
What do I need to do to Prepare?
Can I actually Die doing a Spartan Race?
Within my Sprint Review in Tampa today, I'll answer some of those questions! For even more, check out my Spartan Race Beginner Tips too!


What I did to Prepare – Spartan Race Sprint Review Tampa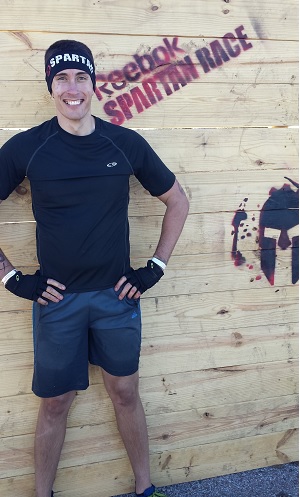 What if I told you I did little to prepare other than just an at-home workout program? Would you think I was lying? Well, call me crazy, that is all I did!
I was pretty dead set on keeping up with my workouts of P90X3. I did one run during a random weekend for 6 miles, but just stuck to 30 minute P90X3 workouts. As you'll see below, for my goal of finishing the race and not dying, I did pretty darn good!
I decided to suit up a bit though for this Race. I purchased the Innov-8 Trail Roc 245 Shoes (best decision ever). These things drained all water and mud out almost immediately. I also used a basic Champion Dri-Fit shirt along with basic Mesh workout shorts.
For Breakfast I had 5 Egg Whites and Oatmeal. For Lunch (our heat was at 2:15 PM), I had my P90X Shakeology recipe for protein and carb power! Then, just 45 minutes before the race, I enjoyed a Cliff Bar.
My Review of my First Spartan Race Sprint in Tampa, Florida
If you aren't sure what a Spartan Race Sprint consists of: it is around 3+ miles and 15+ obstacles. The trick is, they don't tell you anything about what will happen until you arrive onsite for the race. We found out our race would be just about 4 miles long and 18 obstacles. This race was different as it was also a Special Ops Military Sprint (Special Ops forces helped design some of the obstacles!).
This Sprint was also the first Spartan Race that combined BOTH Stadium Events and Regular Obstacle Course racing. We used the Tampa Bay Bucs stadium for the first half of the race, and the grass fields behind the stadium for the rest of the race.
Here are some of the obstacles as I remember it from my Spartan Race Sprint Review:
Running Ramps and Stairs – This was almost 50-60% of the entire race! I think I got a full Spartan tour of the Bucs stadium. If you ever go to watch a game, chances are we ran on each stair you step on!
U-O-U-O – This means, Under, Over, Under, Over. You basically go under a wall, then over a wall, and repeat.
6, 7, 8 Foot Walls – We jumped them all! I have to admit I was worried about walls. I'm a tall guy, but my legs are longer than my upper body. Luckily the walls aren't as bad as I thought. Get a good running start, jump up, and pull yourself up and over. I straddled most walls at the top and then lowered myself down. If all else fails, don't worry, there are AMAZING people doing this Race with you, and someone will give you a boost.
Mud Pits and Mountains – We jumped into water about waist deep, and had to climb over big mounds of sand in between. This was muddy good fun!
Rope Climb – This one is tough. Use the knots in the rope or use a special military crawl to get to the top of the rope and ring the bell.
Spear Throw – You have to throw a spear into a bail of hay about 20-30 feet away. This one shows up in a lot of Spartan Races, but man it was tough! The penalty for not making it is 30 Burpees….(See what a Burpee is Here).
Stairs Stairs Stairs – I say this twice because it happened a lot. If it isn't stairs in your Spartan Race Sprint, it'll probably be hills!
Fire Pit Jump and Gladiators – The end to most Spartan Races includes a fun jump over fire and running past some dudes with gladiator q-tips that try to knock you down. Me and a few people bum rushed them and made it through without any big hits!
CAN ANYONE DO A SPARTAN RACE?
Yes! Check out SpartanRace.com and you'll see that everyone does this. What was most inspiring to me was a lady who was on crutches lining up at the start line. This wasn't a group of fitness nerds, these were everyday people doing extraordinary things. Will you Die? Legally I suppose that is something that is necessary to note (as a risk is involved in anything athletic). Do I recommend training? YES! If you are completely out of fitness (don't even exercise), get involved in something. Join me with P90X3 and get in better shape within 90 day before your Spartan Race!
Spartan Race Sprint Review Tampa Video
I was able to wear a Go-Pro HERO 2 camera during my race. Check out some of the highlights in the video below:

Spartan Race Sprint Conquered – What is Next?
Well I think I have found a new addiction! This was a good freaking time, and I can't wait to do it again. I have already signed up to do the Miami Super Spartan Race in April (check out the Spartan Super Review here). I can't wait! The Super Spartan is 8 miles long and over 20 obstacles. BRING IT! You can sign up for one of the Spartan Races on the Spartan Race website.
Also, not sure if Spartan is a good first start? Then check out the Great Inflatable Race for another fun option!
I hope you enjoyed reading my Spartan Race Sprint Review from Tampa, Florida. If you have questions about the race, feel free to comment below.
Yours in Fitness Success,
Coach Bob