When looking for a good stability ball for exercise, durability, effectiveness, and size are of utmost important. Today's Trideer Exercise Ball Review will show one particular exercise ball and how I find the best exercise & stability balls on the market.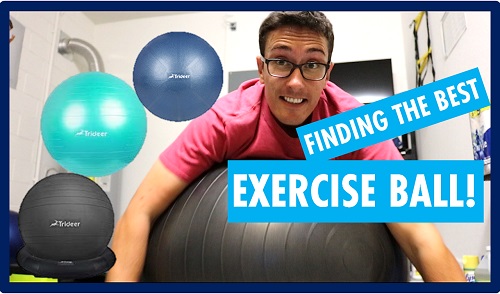 Finding the RIGHT Exercise Ball – Trideer Exercise Ball Review
You may ask, why am I so up in arms about Trideer Exercise Ball? The reason is first because of their durability. Also, I truly appreciate their customer service. When I scroll the Amazon comments, they are responsive and take care of any issues. And NO, they did not pay me to say any of this…it's my own research and observation!
A few important factors to consider when picking out your exercise ball:
Size: most important! Use the size chart below to ensure you pick the right size based on your height. Otherwise, you'll be frustrated if using it for a weight bench, chair, or yoga ball.
Durability: Make sure your ball has a burst rating of at least 1000 pounds!
Pump: Most balls come with some type of air pump, be sure to pick a ball that has a proper pump with it (if it doesn't even come with a pump, I'd avoid it all together!).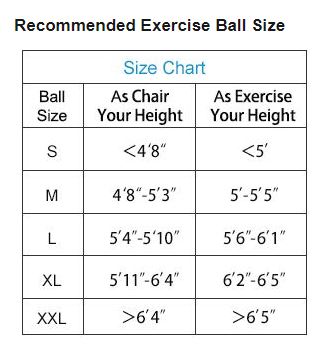 Learn more and get your ball today from Amazon, which has more Trideer Exercise ball review details:

Trideer Exercise Ball Review YouTube Video
Check my review video where you can see my Trideer 85cm ball in action!
Why Trideer Exercise Balls May Help You
If you're looking to potentially save money against the higher costs of getting a workout bench, this might be a great option. I've used the exercise ball idea for both Hammer & Chisel workouts as well as a replacement for Body Beast equipment.
If you think about it, this ball costs around $30, where a good workout bench could be $60-$100+.

You really don't need to overthink fitness. With a few small tools and a positive mindset, you my friend, are onto great things!!
If you have questions, reach out to me anytime. Enjoy your Trideer Exercise Ball!
Yours,
Coach Bob