When it comes down to Body Beast Equipment, I see many people pass on the great opportunity to do the Body Beast program. Don't let the equipment be the thing that steers you away from getting the results you desire!!
There are only THREE simple equipment needs you'll need for the Beast. In fact, it is no different than the P90X3 Equipment needs to be honest. Don't get me wrong, there are a lot of things you CAN get for Beast, but my goal is to help you know what is absolutely needed, and what is absolutely optional!
Body Beast Equipment Review Video
Check out this video to start off where I review the Body Beast Equipment that I use every day for the Beast.
So what Body Beast Equipment do I ACTUALLY Need?
Three Simple things, as I mention in the video below. Keep in mind these are the items that I have picked that give you the best value for the money. It is OK to Beast up on a budget! If you have the budget, you can get the other items I mention below in the next section.
#1 – Dumbbells
I have picked up random dumbbells through my fitness journey since 2010. If you haven't yet got any dumbbells, I would actually look for powerblocks or adjustable weight dumbbells. Why? You'll save more money over the LONG term. Sure, you can save money in the short term, but let's be real – It's all about saving money versus paying $30-40 a month as you keep upgrading your dumbbell weight!
#2 – Premium Stability Ball
Versus buying a bench, getting a premium stability ball will save you SIGNIFICANT money! Not only that, you can strengthen your core, and it doesn't take up as much space as a bench would. Personally I have both, but there have been moves I opt for the stability ball because of the convenience.
=>Click here to grab your Stability Ball<=
#3 – Pull Up Bar or Resistance Bands
A Pull Up Bar or Resistance Bands will do wonders for you when it comes to building your back, shoulders, and biceps. Please do NOT use Resistance Bands to substitute dumbbells on a program like Body Beast. For the Beast, it's about building lean muscle (even if you are a girl and don't want to get bulky). Get yourself some dumbbells to get the results you deserve. Use the resistance bands ONLY for replacement of the Pull up Bar.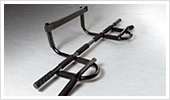 P90X Chin-Up Bar – Even though it's call the P90X Chin-Up bar, it is used for a variety of programs. I used to have a cheap bar from Target, but once I got this it helped me significantly thanks to the different hand grabs and stability this bar has.
=>Click here to grab your Pull Up Bar<=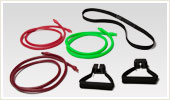 Resistance Bands – Alternative to the pull-up bar, you can also get the resistance bands. These attach to a door or any sturdy frame that doesn't risk it snapping your face all up! Use this and get the back, shoulders, and biceps you have always dreamed about.
=>Click here to grab the resistance bands<=
That my friends, is the basics. If you are on a budget and still wanting to BEAST UP – this will help you get the success you are after with necessary Body Beast equipment.
 Body Beast Equipment Optional Items for #BEASTMODE
So you know what the required items that I have used above are, but what about the other #BEASTMODE items? This is what we will explore. If you are serious about making gains and will be sticking with Body Beast for longer than 90 days (in other words, doing a few rounds of Beast), consider these:
#1 – EZ Curl Bar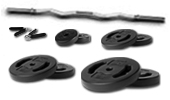 Don't get me wrong – this thing is legit! It is legit for two reasons: One is that it provides great hand grips and support for many EZ Curl moves (especially the Lucky 7 bonus workout you get). Two is that the weights that go on it can be useful for more than just the bar. You can use it for the Bulk Shoulders moves, Russian Twists, and much more.
=>Click here to learn more about the EZ Curl Bar<=
#2 – PowerBlock Bench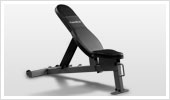 The nice thing about this bench is that it provides different angles for the moves. In Bulk Chest, you use different incline presses and flys that this bench comes in pretty handy for indeed. Dimensions (when flat): 16″ tall, 50″ long, and 21″ wide.
=>Click here to learn more about the PowerBlock Bench<=
That is the long and short of the Body Beast equipment you need to succeed. If you are doing Beast, comment below and let me know how you are doing. If you are ready to Beast up with the Sweet Life Fitness community, click here to see the best deals.
Also, be sure to check out the Body Beast Supplements page for some more detail, and as always – let me know if you have questions!
Yours in Success,
Coach Bob