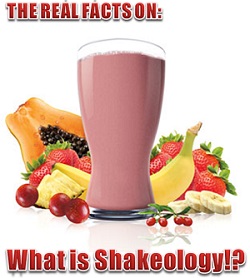 Are you trying to answer the question: What is Shakeology? I get a lot of questions about this product from our fitness community, so today I am dedicating an entire page to YOU answering what is Shakeology, and if it's worth the money investment.
I could start off by sharing all about what Shakeology is from the standpoint of nutrition, health, supplementation, blah blah blah. You can easily find that elsewhere quite honestly. Today I want to share with you ACTUAL value based on my experience with this product. Most people who use Shakeology use it to help aid them in their health and fitness goals. I'll start off by providing my review on my video below, and then share some "Must-know" information right below the video.
What is Shakeology Good for Anyway?
Check out my video where I explain "What is Shakeology Good for Anyway?"
If you see the value in Shakeology as I did, take action now and get it on Home Direct. I will send you some free help on how you can incorporate it into your eating to get the best results with any program you are doing (even if you aren't truly working out too). My passion is helping people, and it's my gift to you!

What Shakeology Replaces – Can I just Eat Healthy?
As I mentioned in the video, when I started realizing I could actually SAVE money on my daily lunch (Shakeology comes out to around $4.33 per day), I was excited. So many times I think we run to the vitamin store or local health store to stock up on things that we think will make us healthier. I started realizing that popping vitamin pills is kind of boring, and really doesn't help me save money (since it doesn't serve as part of a meal replacement shake).
Spending more money to try and get healthier with supplements without be economical can really break the bank (aka what NYTimes calls unnecessary money, or "Patient Money"). Instead, replace a fattening lunch meal with this shake. Or, even better, if you are SKIPPING a meal (big no no in the fat loss success world), throw in Shakeology to assist with that effort.
What I like is that they are always formulating new flavors of Shakeology. This makes it easier when you want to mix it up and not have the same old boring flavor day after day. I opt for the Neapolitan Box (as I show in the video above). Personally, my favorite flavors, in order: Chocolate, Strawberry, Vanilla (personally, I do not like the Greenberry flavor and do not recommend it).

Going back to my information above in regards to replacing your supplements, and bad eating, with this Shake once per day, check out the below video. In this video, Tony Horton (creator of P90X), explores the ingredients in one serving of the shake, versus buying it separately:

I hope that this page on "What is Shakeology" helped you see why I use it, along with some benefits that our community has found in this meal replacement shake. Whether you decide to buy it or not it obviously your choice. If you are in a stuck position, like I was, where you know you need to eat healthier without spending a boat load of money on supplements, this may be for you. I would suggest taking action, clicking the button above, and checking it out for yourself. Get it on Home Direct to get a discount on Shipping, and either take advantage of the 30-Day Money Back Guarantee, or use it for a month and cancel the automatic shipping (but still save on the shipping discount you originally got!).
Want more information on "What is Shakeology"? Check out more resources below:
Yours in Success,
Coach Bob