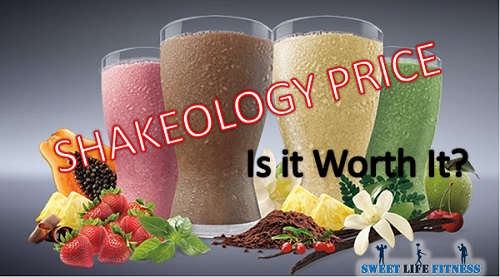 All jokes aside. Is Shakeology worth it? If you are asking yourself that question, I totally understand your reasoning for wanting to know if it will be just another waste of money. Today I'm going to explore the Shakeology Price while sharing my personal story so you can make a decision if Shakeology is worth it to you.
People often ask me what supplements and nutrition they should take to lose weight. I use a variety of supplements including Core Omega 3, Optimum Nutrition Whey Protein, P90X Results & Recovery Formula, and yes, Shakeology.
But if it came down to only having just one supplement, I would choose Shakeology. Why? Well, let me best explain with my story, and how I struggled with the Shakeology Price at first.
Shakeology Price | Is Shakeology Worth It? | My Personal Story
If this is the first time you have visited Sweet Life Fitness, welcome! My name is Coach Bob Sharpe, and I'm the leader of this site and dynamic
community of busy people getting healthy and fit (Team Sweet Life).
Most of my life I always wanted to be slim and look great. I tried everything from not eating breakfast (who hasn't tried this fad?) to buying some goofy disco DVD fitness program. Nothing really worked for me.
Finally in 2010 I fell into P90X, the extreme fitness program. In the first 30-40 days of the program, I thought this would be just another failed opportunity. But then something clicked. Instead of  drinking the same old "health drink" that I thought was healthy, someone suggested Shakeology.
My first thought?
Whoa! The Shakeology Price is $129.95 for a month! Forget it!
So I struggled along with P90X. But of course, as is the case with most things, Shakeology kept coming up again and again (along with the Shakeology Price in the back of my mind).
One day I was taking a trip to McDonalds for a Breakfast meal (after all, it was their annual Monopoly sales promotion!). I LOVE the Monopoly days at McDonalds!!!
I got the basics:
#1 Egg McMuffin
Coffee
and an Extra Hashbrown (in order to score that additional Monopoly piece).
I pulled up to the window, and the lady at the drive-thru window said "That will be $7.56". That was my turning point…
Since when does McDonald's charge so much???
I don't even live in an expensive state (I live in Florida). This fast food deal was becoming expensive (and I never did win that amazing Monopoly Car…). I started thinking back to Shakeology (again), and realized that if I would give in to the $129.95 monthly cost and drink it daily, it would be:
Whoa. That is a big difference between $4.33 and $7.56 per day.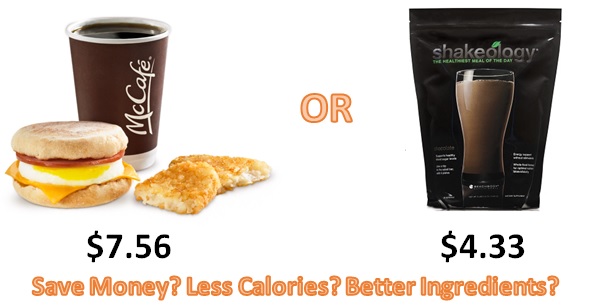 I gave in and tried it.
After the remaining 60 days of P90X, Shakeology helped me take off the weight and I was really excited about how good I felt. My digestion was better, my energy was high, and my before and after results looked like this: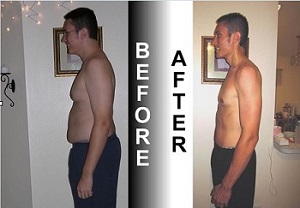 See the value like I did? Check out the best price on Shakeology at the link below. If you don't like it, you can send it back for a full refund up to 30 days!


For Canada Customers, Click Here
Insider Tip: Choose "Monthly Auto-Ship" which gives you a HUGE shipping discount. You can always cancel it from auto-shipping after you receive your first shipment (and still save the shipping money!).
$4.33 per day, maybe not a bad Shakeology Price. But is it Worth it?
After reading my above story, you might still be wondering if Shakeology is worth it. After helping so many other people here on Sweet Life Fitness with the product, I have found some people who find that Shakeology is worth it. I also find other people who think Shakeology is a complete waste of their money.
So, I have two lists of how to know if Shakeology will be worth it to you or not. If you are more of a person who wants the high-level details, I'd also recommend checking out my Shakeology Ingredients post as well.
Reasons Shakeology Can be Worth it to You:
You want to lose weight and are serious about modifying your overall diet (I can help with a free guide with your Shakeology order)
You are exercising and are trying to find good nutritional supplementation
You lack regularity and need help with digestion through proper blends of probiotics
You don't have the best diet and are looking to ensure you get a one-stop shop vitamin supplementation
Reasons the Shakeology Price can be a Waste of your Money
Someone tried to sell you on the glory of this shake. It's not a wonder-drug, so I apologize if someone steered you wrong. It is a tool, not a quick fix.
You plan on eating unhealthy the rest of the day expecting this one shake to make a difference.
You plan on drinking the shake without any exercise at all but expecting to lose weight (not even walking a little).
You spend over $500 per month on high quality nutritional supplements and don't need the superfood blend or probiotics and prebiotic blends.
How Can You Get the Best Shakeology Price?
While the list price is $129.95 plus shipping of around $10-14 depending on your location, there are some discount options.
Save on Shipping: You can get a discount on the shipping costs when you order on auto-ship (home direct). If you see the value in Shakeology, this will be a no brainer. Every month Shakeology will automatically bill and ship to you, and you will continuously save on shipping costs with this discount.
25% Discount Option: There is a way to save 25% if you are drinking Shakeology for the long-term. The option is to become a Beachbody Coach. There is a slight cost for becoming a Beachbody Coach ($39.95 to start and $15.95 per month); however, even with the cost figured in, you'll still be saving off of list price (click here to learn more).
If you see the value in the Shakeology price like I did in my shared story above, click the link now and try for yourself. After you order, I'll share some tips that I use to maximize the use of Shakeology for my exercise and weight loss.

For Canada Customers, Click Here
Insider Tip: Choose "Monthly Auto-Ship" which gives you a HUGE shipping discount. You can always cancel it from auto-shipping after you receive your first shipment (and still save the shipping money!).
Learn more about Shakeology:
Shakeology Ingredients
Shakeology Cleanse
Shakeology Review
To your Nutrition Success,
Coach Bob Sharpe