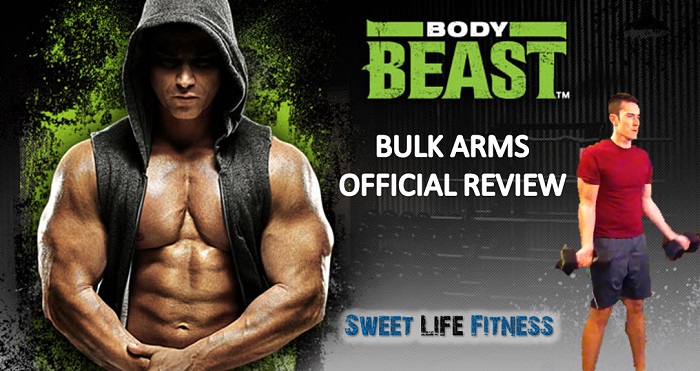 I was feeling a bit cocky in the beginning of some of the Body Beast Bulk Arms workouts. Unlike workouts such as Body Beast Bulk Shoulders or Bulk Legs, my arms have always been my fun zone. Lift heavy, burn out the biceps, and call it a good workout! But as you'll find in today's Body Beast Bulk Arms review, I learned to shut up pretty quickly.
Body Beast Bulk Arms Review of the Moves
The moment I step up to the plate, after 2:25 minutes of jogging and warming-up, I'm prepared to take on the WORLD! The first move is called "Standing Curl". Heck, I've done this before with my P90X3 Journey and also with the original P90X, let's heavy up the weight.
That was until the BEAST said he was starting with only 10 pound weights. Let me set the record straight…at no point did I EVER try to match the Beast's weight (yet). I was shocked, floored, and skeptical as to why he was using 10 pounds, so I decided to follow along with him. Let's just say I was DANG glad that I did!!!
Progressive Set
Standing Curl – 15 reps down to 8 reps, and then right back up the pyramid! (Weights used: 15 reps at 10 pounds, 12 reps at 20 pounds, 8 reps at 25 pounds)
Single Set
Tricep Extension – For some reason this one always seems easier to me, but the skull crusher move on the other hand is not the same story! (Weight used: 15 reps at 25 pounds, 12 reps at 40 pounds, 8 reps at 40 pounds, drop set at 25 pounds).
Force Set
Wide EZ Bar Curl – This is one of those sneaky moves. I feel all confident to heavy up the weight, but then I remember it's 5 sets of 5 reps in a forced nature. By the third one I'm thankful that I chose only 15 pounds on the EZ Curl Bar!
Single Set
Skull Crusher – This is taking the EZ Curl Bar and curling downward towards your head (skull…) to better work the triceps. An amazing move for the triceps without a doubt, and I totally understand why they call it the skull crusher. Heavy up the weights too much and the bar lands on your head. Don't die people!!! (Weights used: 15 reps at 15 pounds, 12 reps at 20 pounds, 8 reps at 25 pounds)
Progressive Set
Hammer Curl – This is the ultimate BEAST when it comes to building those biceps and forearms. Because I'm a natural bicep junkie, in the later weeks of my Body Beast Bulk Arms journey, I have decided to "spot myself". While I wouldn't recommend it to everyone, what I do is use my available arm to pull up the struggle for the higher sets of weights when I'm curling (usually the 25 pounders). (Weights used: 15 reps at 10 pounds, 12 reps at 15 pounds, 8 reps at 20-25 pounds).
Progressive Set
Tricep Kickback – Another great progressive set, as if the hammer curls didn't already wipe you out! I used lighter weights for this particular move as I wanted to focus on really feeling the squeeze and the burn from each move. That is how muscle hypertrophy begins, and that is a great way to build up strength and gains. (Weight used: 15 reps at 8 pounds, 12 reps at 10 pounds, 8 reps at 15 pounds).
Single Set
Weighted Crunch – It's not a Body Beast workout without an amazing ab routine at the end. I want to do MORE of these type of ab workouts as the weighted stuff really can help build up the bulk of your abs (I personally don't like skinny guy abs…it's all about the high peaks and low valleys my friends!). I used a variety of 8 pounds during the first weeks all the way up to 15-25 pounds using the plate.
Body Beast Bulk Arms Overall Thoughts
As you saw in the video and my photo, the pump you get is REAL from this program. What I have been doing is following along with the many recommendations on eating a fast-digesting carb after each workout. This has helped fuel post workout nutrients and restores lost glycogen in the muscles.
Some good examples of what I've been doing include:
Body Beast Fuel Shot (1-2 Scoops) with Hardcore Base Shake (1 scoop). (See more of the Body Beast Supplements)
Eggo Whole-Wheat Waffle or Vans Gluten Free Whole Wheat Waffle (and yes, I slap on some butter too!).
Beast Banana Pancake (see the Body Beast Food guide for this incredible recipe)
This is a perfect time to throw in something carb heavy and tasty like I mentioned above. Fuel up your muscles, add in your 5g of Creatine and get ready to make the gains (or lean muscle) that you are after!
How are you doing with Body Beast Bulk Arms? Comment below and let's chat!
Also, if you found any value or fun out of this Body Beast Bulk Arms review, be sure to LIKE and Share with others using the buttons below
Yours in Fitness Success,
Coach Bob
P.S. – I am expanding my team! If you are looking to get paid to get and stay fit, join me and the rest of Team Sweet Life fitness and earn income part time in your spare time: Click Here to Learn More