Today we are coming in for a landing on one of the most important points of CORE DE FORCE. That's right friends, the CORE DE FORCE Nutrition Plan. You only have 30 days to get that body of your dreams with this program, which makes the Nutrition Plan even more vital to that success you deserve!
Whether you got CORE DE FORCE here at Sweet Life or have it unlocked within Beachbody on Demand, you'll have access to this beautiful Eating Plan guide: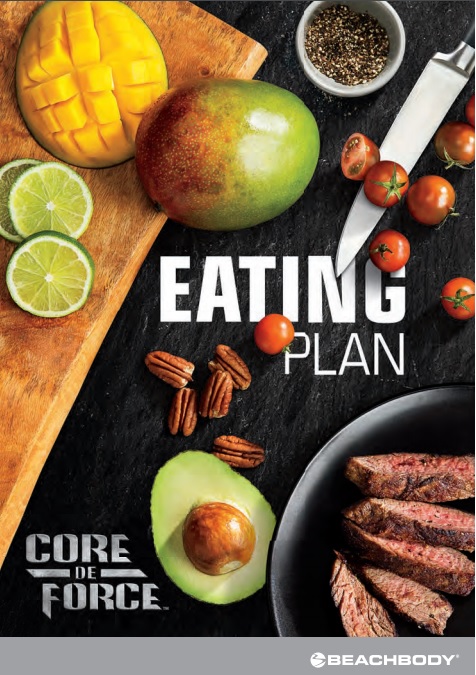 My goal is to make the CORE DE FORCE Nutrition Plan SUPER SIMPLE for you by giving you some awesome calculators and details you can use today. Most important, if you have any questions at all, that's what the comment box below is all about! Comment below and let's chat.
CORE DE FORCE Nutrition Plan Calculator
STEP #1 – This is a very simple calculator to determine which plan you should follow within CORE DE FORCE. All you have to do is enter your weight (use lbs not kg or stone). The rest will be automatically calculated. Take the number in the last field to move on to the next step.
STEP #2 – Take the number in the last field above and look below to see which nutrition plan you should follow.

STEP #3 – Now that you know your PLAN from above (PS – in case you were wondering…I am PLAN D). Now you can see the number of servings you need per day following the CORE DE FORCE Nutrition Plan. This follows the winning nutrition of 30% Protein / 40% Carbs / 30% fats which have been the fuel behind a lot of successful results.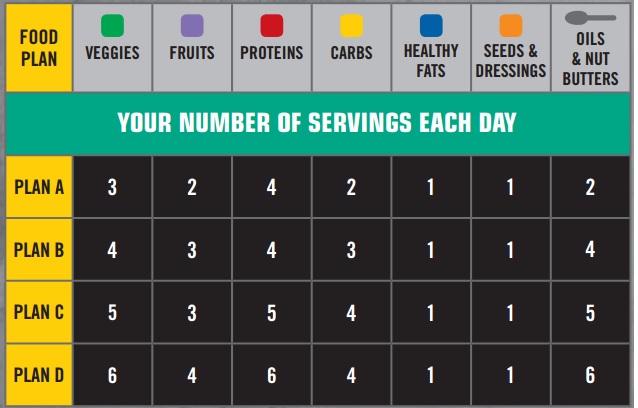 You can track your daily nutrition with THIS HANDY GUIDE that can be printed for your use!
IMPORTANT Difference with the CORE DE FORCE Nutrition Plan!!
You may have used the INSANITY Max 30 Nutrition Plan or the 21 Day Fix Meal Plan, but this one is a bit different!
Here is the big difference:
The above plan and servings are considered your "BASELINE". Keep that in mind as we discuss this next part…
On WEEK #2 – Add an extra FRUIT (Purple Container) serving every day
On WEEK #3 – Keep eating the extra FRUIT (Purple) and add an additional HEALTHY FAT (Blue Container) serving every day
On WEEK #4 – Return to your BASELINE serving from the above calculation.
Why this change?
I think it's brilliant! According to the guide, as the workouts intensify, your body needs more fuel! Gradually increasing your calories with "energy foods" like fruit and health fats keeps your metabolism firing and plateaus stay at bay. When you drop those calories back down in Week 4, your body is primed to accept the deficit, which translates to killer results at the end of the program.
As we go through this together, I am looking forward to seeing what this change-up will do for us!
Are you doing CORE DE FORCE? Join me and the team!
All FOR FREE – join us in our private challenge groups all online. If you are doing the program or just need support and community for any of the Beachbody programs, click below and let's get connected:

If you enjoyed this CORE DE FORCE Nutrition Plan post and it has helped you, be sure to share it using the social media buttons on this page!
Yours in Success,
Coach Bob