Did you ever have a time where you sat a goal and didn't quite achieve it? How did it make you feel? Did it make you want to give up? Not try again? Feel defeated? Well stay tuned for some tips and inspiration on how you can still be a champion despite a shortfall. Today I'm sharing my Fitbit Challenge FAIL – the journey to 100,000 steps in one day fell short!
During my recent Fitbit 30,000 step journey that I did in May of this year, I put up a challenge. 100 likes on my YouTube video has me marching towards 100,000 steps in a single day.
That all sounds great in theory, and once I achieved 100 likes, I set up the plan to go for 100,000 steps on my Fitbit in one single day.
It was an incredibly warm day in July, and I set out to walk down a familiar highway for a total of 53 miles. That would be enough, based on my stride to hit 100,000 steps (and give me one heck of a calorie burn throughout the day!).
Did I make it? Spoiler Alert: NOPE.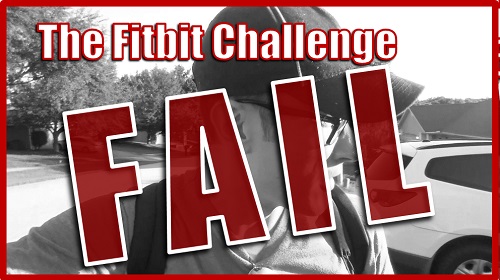 See the video below for the details on why this ended up being a Fitbit Challenge FAIL, and what I learned.
Fitbit Challenge FAIL – The Details on the Long and Treacherous Journey…
Track your SLEEP, Your STEPS, Your HEALTH with the Fitbit – Click here for the best pricing on Amazon!
What Does it Mean if you FAIL? Fitbit Challenge FAIL
As you know, I have FREE Support within the Team Beachbody community that I offer. Within this free support I often hear a lot of disappointment when people think that they "FAILED"
I failed and cheated on my nutrition
I failed and skipped workouts
I failed and stopped working out
I failed and didn't get the results I wanted
Listen clearly: YOU DO NOT FAIL UNLESS YOU GIVE UP.
What you should do instead, and what I'm doing as part of my Fitbit Challenge Fail, is realigning and trying again based on what you have LEARNED.
Walking on a flatter surface
Walking on a trail that is better shaded
Doing this 50 miler in cooler weather vs blistering heat
Getting even better shoes
Stretching like a boss before I set out to do this again
With these key learnings, I can turn this "Fail" into a "WIN"
And So…Can….YOU
Realign and adjust in all that you do, and you'll get there.
As for my Fitbit 100,000 Step Challenge? Stay tuned – this WILL happen, and I'll be attempting again in the Fall Time! Also, are you an apple user? There is a fitbit-type fitness watch for you, the Apple Watch!
Yours in SUCCESS,
Coach Bob
Track your SLEEP, Your STEPS, Your HEALTH with the Fitbit – Click here for the best pricing on Amazon!
See my other challenges including the 1000 Calorie Workout Challenge too!