It seems like everything today has some connection to Apple (kind of like the Six Degrees of Kevin Bacon, ya know?). Now that the Series 3 Apple Watch is launched, I decided to give up the Fitbit to put Apple to the test. Today I'm giving a full fitness-related Apple Watch Series 3 Review.
My goal? Help you decide if the Apple Watch Series 3 is a great watch for your fitness + all around lifestyle; or, if you're wasting your hard earned money!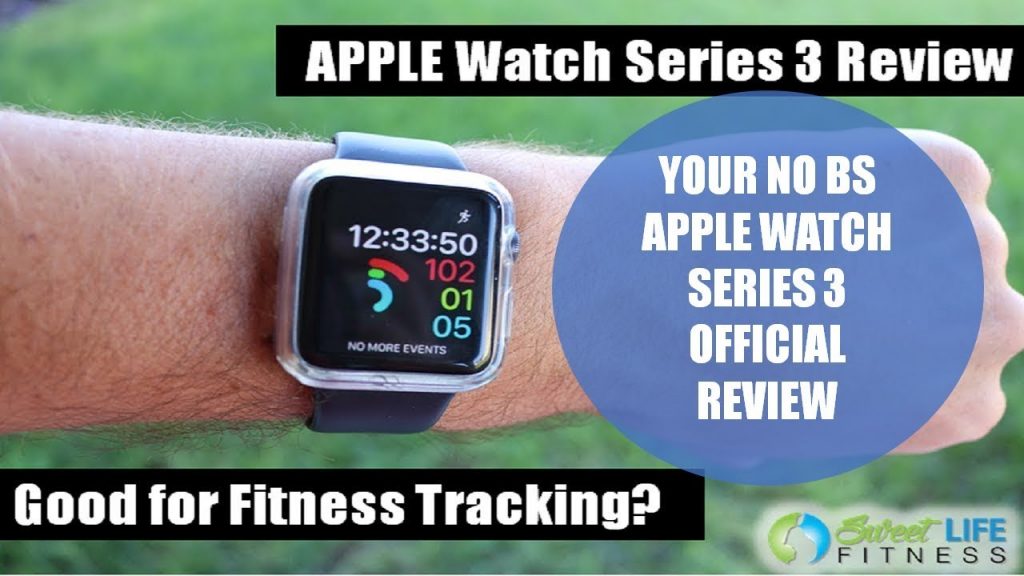 Within my Apple Watch Series 3 Review today, I will explore:
New Features of the Apple Watch Series 3 (vs Series 1 and 2)
Heart Rate Features on Apple Watch
Fitness Tracking Features on Apple Watch
Apple Watch Series 3 vs Fitbit Charge 2
Ready? 3…2…1…let's go!

New Features – Apple Watch Series 3 Review
There are two options you can choose within the Apple Watch Series 3: Either 
GPS Only Model
, or the 
Cellular (LTE) Model
. I have opted for the GPS Only model as I don't need the cell-only version (my iPhone is always near me anyway), plus, I hate the idea of an additional $10 per month for my cell company to support the watch. BUT – if you like the idea, rock and roll and enjoy! Some of the biggest differences and new features include:
Processor: Apple S3 vs S2 promises a faster user experience, and I can say that I agree! The watch is super responsive and apps/features do not hesitate on Series 3.
Siri Talks Back!: You can have chats with your favorite buddy Siri within the Apple Watch. Siri will talk back to you within the Apple Watch feature and comes with many more ways to make your life incredible!
Barometric Altimeter: The Apple Watch Series 3 now includes a Barometric Altimeter, meaning that the watch can track your elevations (giving an extra incentive to take the stairs vs the elevator!).
HIIT Workout Tracking: The Series 3 also has support for HIIT Training, a huge win for people like me who love doing workouts such as Insanity Max 30

Heart Rate Features on the Apple Watch Series 3 Review
With WatchOS4, Apple Watch Series 3 will track your current heart rate, resting rate, walking average (avg heart rate while walking), and reecovery rate after workouts. I personally love the idea of the heart rate recovery feature after a workout, which I didn't feel my 
Fitbit Charge 2
 did a good job reporting. Within your iPhone you'll also have the HEALTH APP – which, to be honest, I never used before I got my Apple Watch, and I thought the app was dumb. Now, I get it, and I love it. Other great Heart Rate Features of the Apple Watch Series 3:
All day tracking of your heart rate and vitals
Alerts for when your heart rate spikes unnecessarily when not working out or moving (great for Atrial Fib / Health Concerns)
Apple Watch Series 3 Review Video
Before we hop into the Fitness Tracking Features + Comparison of Fitbit vs Apple Watch Series 3 review, check out my YouTube video review:

Apple Watch Series 3 Fitness Tracking Features
Apple Watch packs, what I believe to be, a great fitness package. In fact, this isn't just a "get your steps" for the day tracker. It focuses on three different aspects of fitness, as recorded by closing your "Activity Rings" of Standing, Moving, and Exercising. As long as you are not cheating yourself with low goals, you'll set your Move, Exercise and Stand Goals. In the above image you'll see my Activity Goals. I set 640 calories for Move (which, I need to bump up for next week's goal!), 30 mins for exercise, and standing at least 12 hours per day (for a few mins per hour). As I mention above, the Apple Watch Series 3 does NOT let you get away with just "stepping around" to achieve closing all three of your activity rings. You must give ACTIVE calories, you have to fully exercise for at least 30 mins, and you have to stand up and the watch must recognize you avoiding the couch potato life for at least a few mins per hour.
Apple Watch Series 3 vs Fitbit Charge 2
I originally was introduced to the world of "fitness trackers" in 2013. I purchased the 
Fitbit Charge HR
 and was hooked. I loved the idea of sleep tracking, heart rate oversight, and my fitness snapshot. Later, I decided to upgrade to the Fitbit Charge 2, prior to my Apple Watch. I even went on different challenges within the YouTube community, even though I had a 
Fitbit Fail
 in the process! Let me try to make your life easy with this comparison of Apple Watch Series 3 vs Fitbit Charge 2. If you have questions, let me know:
Community and Sharing: Winner – Fitbit
When it comes down to community, I'd have to give the award to Fitbit. The ability to challenge each other with Steps and engage in challenges is on point. With Apple Watch, the sharing features seems odd and it looks like you must have someone's phone number in order to connect. For those who you may want to challenge but don't want to give up your phone number, it gets awkward fast.
Exercise and Fitness Tracking: Winner – Apple Watch
I feel that, although Fitbit tracks calories and overall fitness, the Fitbit is all about steps. Get your steps for the day, and that is the primary anchor for success. Apple Watch on the other hand requires you close all three activity rings. That means you get up and stand, you exercise, and you move! Moving isn't just stepping. You can get 10,000 steps and not close your Move ring with the Apple Watch. So, the Apple Watch demands more fitness out of you, and that is a good thing!!!
Sleep Tracking: Winner – Fitbit
The reason Fitbit wins this category, is because it actually tracks yourself automatically within the tracker + app. With Apple Watch, you can certainly track your Sleep, but it requires downloading (and possibly paying for) a separate App for iPhone.
Overall Tracking and User Interface: Winner – Apple Watch
The Apple Watch has more user interface and is much more technologically advanced. Between the apps you can get to better text and phone call capability, the award here hands down goes to Apple Watch Series 3. As you might have seen in my YouTube video, I can open my Garage Door with my Apple Watch. I mean, c'mon, that's next level folks!!!
Get your Apple Watch Series 3
Heck yeah folks! Apple Watch Series 3 is my winner and I fully support and love this fitness tracker (and overall badassery of a watch).

I hope you found value in my Apple Watch Series 3 review. Please be sure to comment, like, 
subscribe to my YouTube channel
, and 
join me on TeamBeachbody absolutely free
. Yours in Success,
Coach Bob