Cut the BS. Cut the Guru-science. This post is all about you and I having a serious discussion on how to get better at Working out.
Did you ever dream of getting results that you were proud of?
Did you ever want to know the "secret" of how certain people seem to get results while others do not?
You've come to the post that will give you those answers. Believe it or not this is all free to you. 2 Simple yet KILLER tips on how to get better at working out that (IF and only IF) you put it into action, you'll get the results you deserve!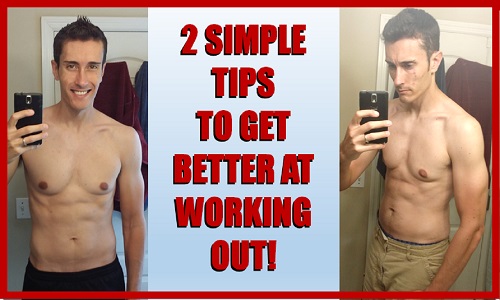 There are a few things to consider when you are working out. First off, these tips are about helping you get the MOST out of working out (after all, this post is titled "2 Simple Tips to get Better at Working Out". BUT, there is a huge key to the entire ordeal:
Nutrition.
Don't eff up your nutrition. If you perfect your workout but eff up your nutrition, you are wasting your TIME!!!!!!
So if you need help in that category, start with Meal Prepping ideas and then step over to how to eat clean (and as always consider getting your Shakeology too!).
Onto today's video!
How to Get Better at Working Out – 2 SIMPLE Tips
Check out today's video on your 2 simple tips on How to Get Better at Working Out:
How to Get Better at Working Out – STEP #1 – Stop the Comparison
You ever get frustrated at the people in the workout DVDs? You feel you just can't keep up with them and they some insane robot from the year 2150 who seem way out of your league.
To hell with them!
Seriously. It's time to focus on you. It's time to #PHELPSFACE!
You know, the Gold Medal winning Michael Phelps. He even impresses Poseidon himself!
When he swims. When he focuses. He is not worried about anyone else. He is only worried about HIS GOALS.
Do the same thing. Stop focusing on others and only focus on YOUR goals and the small yet consistent steps you need to take to get there.
How to Get Better at Working Out – STEP #2 – Run to the EDGE
When you stop comparing yourself to others, and you put on your #phelpsface, you can then run to the edge in all that you do.
In fact, it's a little know secret. Ever see my INSANITY Max 30 Results? Ever see ANY of the results within Beachbody? Most people follow the "Run to the EDGE" step. Now, you'll know it…and you must apply it!
Here is how you RUN TO THE EDGE:
Begin EVERY workout with NO modification.
Push yourself to your own perfection. Perfect form. Perfect push. ALL IN!
The moment you run out of fuel (whether that means running out of breath, strength, power, endurance, etc) – you MODIFY! Step into modification mode. Whether or not you have a modifier or not to follow, you modify. Never STOP!
You keep pushing yourself to the edge, you'll get results that you've never thought you'd get. Each day, try and go a little bit further, a little bit harder. YOU have the power.
These are the 2 simple tips on how to get better at working out.
Too simple? If you think they are too simple, that is the reason you aren't getting results.
It's about time, right?
Do It.
Yours,
Coach Bob
Need help? Let me help you for free.