If there is one thing I can give some really good credit to for my recent INSANITY Max 30 Results, and Cristen's 21 Day Fix Transformation, it would be the ideal of meal prep. Today I want to share three simple steps to get started with meal prep for 21 Day Fix, INSANITY Max 30, or any fitness program you are doing!
Meal Prep, in it's basic form:
Does NOT have to be difficult
Is NOT some hippie fad diet
Can save you MONEY
Can totally save you time
Can avoid "Oh Crap I'm hungry" fast food diet crashes!
Let's get rocking on the Meal Prep for 21 Day Fix (or any program…) game plan!
Meal Prep for Beginners Video – Meal Prep for 21 Day Fix, INSANITY Max 30, and More
In this video I share the basic three tips to get meal prep for beginners down and successful right from the start.
Love it? Got it! Sweet! Be sure to also 30 Day Challenge Group where we support each other through Meal Prep and fitness results.
OK so keep reading on, because I will share more Meal Prep for 21 Day Fix tips and also a sample of what I eat each day.
Meal Prep for Beginners Step #1 – Plan and Prep
The most important piece to every successful Beachbody fitness journey is to use the nutrition guide!

Check out the Nutrition World for some tips on nutrition guides and tips that I currently have available here on the site.
After you read through and understand your nutrition guide, then it's time to:
Meal Prep for Beginners Step #2 – Prep a WEEK in Advance
I use Sunday's for my meal prep. The goal is that you will have everything planned out a week in advanced using Step #1 above.
After using the information in Step #1 above, you'll know how much you should eat for portions, calories, and macros. Then, get yourself some handy tupperware containers (especially if you travel) and start prepping baby!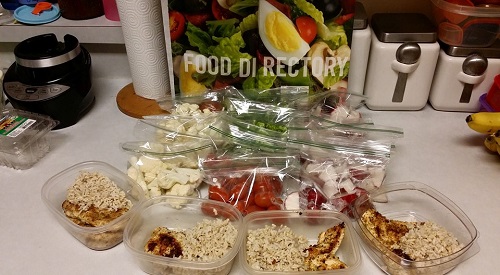 Meal Prep for Beginners Step #3 – Eat CLEAN
Eating Clean, in it's most basic form is:
Whole Foods with 1-2 ingredients maximum
No processed fillers or foods
Juicing/Shakes that contain a mix of only superfood or whole nutrients without soy, soy lecithin, poor cane sugars.
The less fillers and sugar and processes garbage? The better your results!
Why is Meal Prep for 21 Day Fix, INSANITY Max 30, and more so crucial?
Take it from me, the #1 struggle-dude in the world. I pushed so very hard in my workouts each day. I pushed play, but never seemed to get great results.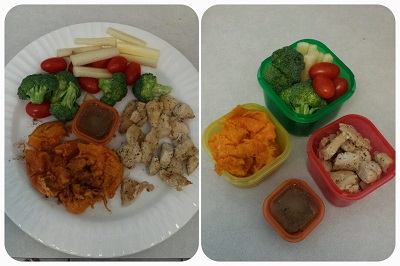 Why?
I ate what I "thought" was good food. For example:
Grilled Chicken Patty Melt
Toasted bread (I'm not sure if this was white bread or wheat. If it was white = even worse!)
Grilled chicken (the CLEAN food that should have been by itself with good herbs/spices)
Cheese (yellow American cheese).
Oh and I sometimes had a cookie because I figured I'd push really hard in my workout anyway.
WAKE UP!
Even if you aren't eating a LOT of calories each day, this sudden rush of sugar, carb-balance, and overly processed food source causes your insulin to spike. The body does not know how to handle this so what happens?
It Stores BODY FAT.
What is my thought on that? Waste. Of. Time.
My Typical Daily Food List
This is based on my recent INSANITY Max 30 journey; however it gives you a peak into what I eat each day. I am not vegetarian, vegan, or paleo – I just clean eat!
Breakfast
4 Egg Whites / 1 Whole Egg scrambled with 1 cup mix of spinach and mushrooms (from time to time I substitute the spinach with chopped green peppers).
1 slice organic turkey bacon (sometimes)
AM Snack
2/3 Cup of whole rolled oats Oatmeal with a sprinkle of natural cinnamon
1 cup of organic cherry tomatoes
Lunch
4 oz grilled chicken
2/3 cup brown rice (organic)
PM Snack
1 cup cauliflower
1 cup broccoli
1 whole organic Apple
Dinner
4 oz grilled chicken (or sometimes lean turkey)
brown rice or sweet potato
small salad (sometimes – no iceberg lettuce!! Only spinach)
Post Workout
1 scoop vegan chocolate Shakeology
1 tbsp natural Peanut Butter
1/2 banana
So there you have it!
I hope you found this info on Meal Prep for 21 Day Fix, INSANITY Max 30, and more helpful! Comment below and say HI or ask questions!
Yours in Success,
Coach Bob