For the last 60 days (technically 67 because I did the INSANITY Max 30 Deluxe Ab Maximizer final week), I went completely INSANE!!!!!! Today I am excited to share my INSANITY Max 30 Results and a few tips and value as always.
I am going to be completely honest with you all. After bulking up quite a bit with my Body Beast Results, I entered into the Holiday season. Thanksgiving and Christmas dieting went BAD. I am still kicking myself for it, but at the same time I know it will help some of you out there. Look…we are all human, we all have those times of our lives that end up going south.
So for my INSANITY Max 30 Results Day 1, this is what we were looking at:
Sorry. I didn't mean to scare you. Hehe. Here are the stats we are looking at:
Weight: 219 pounds
Chest: 39 inches
Waist: 39.5 inches
Hips: 39 inches
Body Fat: 15.2%
INSANITY Max 30 Results YouTube Video
Check out my before and after INSANITY Max 30 Results in my recent YouTube video to see how I did!
Join me with your INSANITY Max 30 at best price…or… | Follow my Step-by-Step guidance in our next 30 day challenge

INSANITY Max 30 Results Before and After Thoughts and Tips
As I mention in the video above, I am going for round 2!!! We have a trip to Cancun, Mexico coming up in 1 month thanks to Beachbody Coaching, and I want to look my very best.
A lot of people have asked what specific steps I took during my INSANITY Max 30 Results and journey. Here are some specifics, and I highly encourage you to focus on these as well. ANYONE is capable of doing WHATEVER they put their mind to!! If you focus and go in with the mindset that you WILL get the results you deserve NO MATTER WHAT, it will work for you!
#1 – Follow the Nutrition Guide
This is at the top because it is the MOST important! If you do not follow the nutrition guide you will really be disappointed. I am speaking specifically on experience here.
I tend to eat in a predictable manner and I don't really change up my variety much. This is just what I like and I'm perfectly OK with it! Here are some ideas of what my meals consisted of:
4 Egg Whites & 1 Whole Egg per day
Oatmeal (natural rolled oats)
Shakeology (Vegan Chocolate with 1/2 banana blended with water)
Grilled Chicken (LOTS of grilled chicken. I'd either spice it up with Extra Virgin Olive Oil or Frank's Red Hot Sauce)
Plenty of Veggies (Broccoli, Cauliflower, Tomatoes, Radishes, Green Peppers)
Banana and Apples
See more about how to master the nutrition guide here: INSANITY Max 30 Nutrition Guide
#2 – Don't be afraid to Max Out or Modify
Use the opportunity to Max out when you need to! In fact, what I did was pushed myself to the Max Out time. Once I hit my max out time, I went into "Modification" mode while I needed to in order to catch my breath/etc.
Always aim to keep your heart rate high (higher heart rate = your body is working is hard = more calories burned for energy). Check my heart rate calculator to check it out for yourself.

#3 – Never Give Up. Fight through the Hurt, Fight through the Pain!
I want to start off this tip with my INSANITY Max 30 Results from 30 days: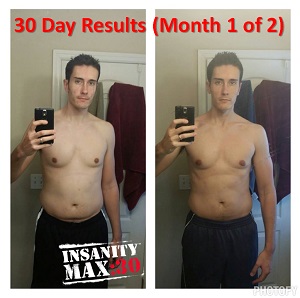 Within 30 days my INSANITY Max 30 results were pretty good but not as good as I PERSONALLY wanted. This is where we need to remind ourselves to never give up. I think this goes both ways too. Either you aren't getting the results you deserve, or you feel your progress is going good and you "deserve" a cheat meal/etc. Don't give up until you are where you want to be, how you want to look, and more importantly how you want to FEEL!
INSANITY Max 30 Final Results
What used to be one of my LEAST favorite things to do (cardio & endurance) is now one of my favorite things to do! Bring on Round 2!!! I plan on continuing to do Max 30 and becoming the BEST me that I can be for myself, my family, and YOU.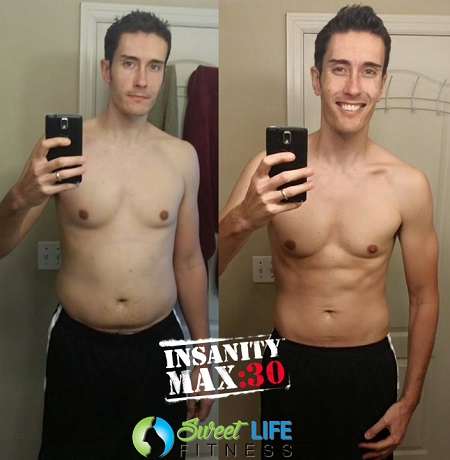 =>Click here to join me and let's Max Out together with INSANITY Max 30<=
Final Stats:
Weight: 219-191 pounds
Chest: 39-37 inches
Waist: 39.5-34.5 inches
Hips: 39-35 inches
Body Fat: 15.2%-10.8%
Thanks for checking out my INSANITY Max 30 Results. Join me for round 2 by getting in on our 30 day challenge group today!
Comment below and let me know how your INSANITY Max 30 journey is going if you've already started!
Yours,
Coach Bob