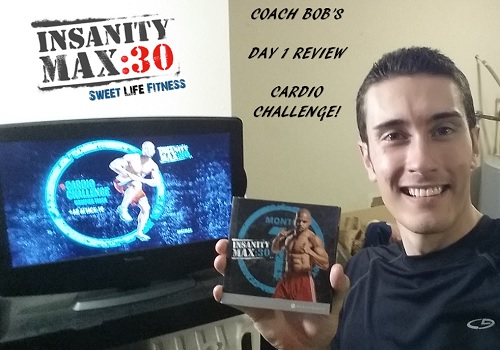 At the end of your INSANITY Max 30 Day 1, if you aren't thinking "WHAT WAS THAT!?!??!", you may have put in the wrong DVD (sorry folks, Sweating to the 80s is no longer hip and new).
In my INSANITY Max 30 Day 1 review, I'll share:
My thoughts and goals for INSANITY Max 30
The Cardio Challenge Workout
INSANITY Max 30 Day 1 Meal Plan info and thoughts
Let's get rolling!
INSANITY Max 30 Day 1 Review – Video
Check out my video on my Day 1 review with this crazy program!!
INSANITY Max 30 Day 1 Review of the Cardio Challenge Workout
So you are talking to a guy who wasn't a HUGE fan of the original INSANITY.
WHAT! *GASP* – Yep, hated it.
Why? Because it was a bit too long and it didn't flow well with me. But after completing Cardio Challenge (and Day 2 as of the writing of this post), I really enjoy this one much more. Some of the few reasons includes the shorter time and the flow of the programs so far. Call me weird if you'd like, but I can tell a big difference between the two.
So as for the Cardio Challenge INSANITY Max 30 Day 1 Review, I personally maxed out at: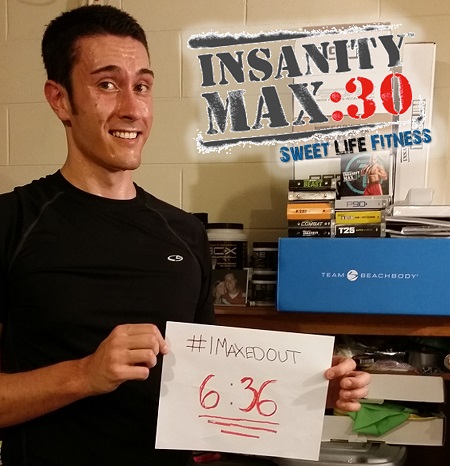 Yes, you read it right: 6 minutes, 36 seconds. We just got finished doing the Pike Up Spider Lunge move, and we started transitioning to the 10 & 2, and I had to take a quick breather.
After finishing the Body Beast program and focusing more on bulking muscles, my cardio endurance was pretty poor. I look forward to improving that plus trimming the body fat during my Max 30 journey (stay tuned!).
Here are just a FEW of the many moves I'll remember with INSANITY Max 30 Day 1:
Pike Up Spider Lunge – This one was a KILLER and was the culprit of my MAX OUT time today. Down on the floor, do a pike up, then transition right to spider lunge. (TIP: This will work your ABS!!!!)
10 & 2 – I actually enjoyed this move and reminded me a bit about T25 & the original Insanity a bit. Very fun move!
Med Ball Jacks – I think that is what it was called? Point is, you "pretend" to have a med ball in your hand and cycle your hands back and forth while your feet are in jumping jack positions. If you don't know, INSANITY Max 30 does not require any equipment, so even though this says "Med Ball Jacks", all you'll need is your body weight (trust me, it's all you need…)
You really mix up the different moves throughout the entire 30 minutes. Each set comes with about 3 moves (two cardio and one on the floor-type move). You repeat these three moves three times through, with each time pushing yourself a little harder. After the circuit is done, you get a very short water break. But don't blink! You'll miss it!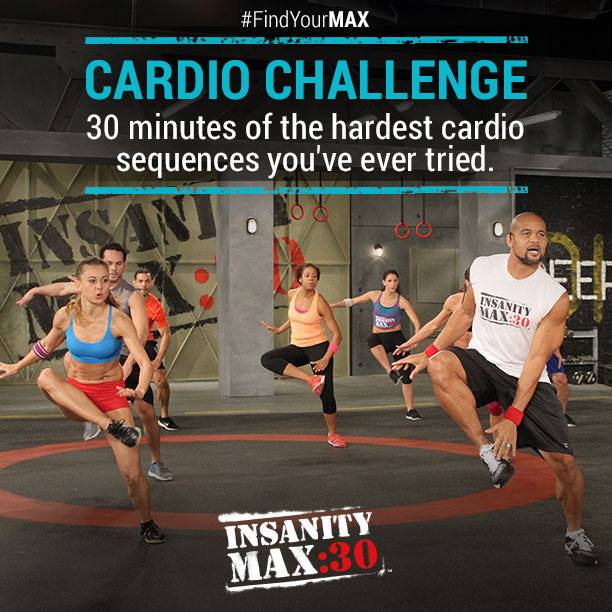 Did that image just say "30 minutes of the hardest cardio sequences you've ever tried"????
I'll pretend I didn't see that…
INSANITY Max 30 Day 1 – Cardio Challenge – What Type of Shoes?
Don't mess this up – the type of shoes for INSANITY Max 30 are definitely Cross Trainers. Back in my P90X days I wore stupid shoes like running shoes and random things I found in the closet. This will not only hurt your ankles and feet, but it impacts your performance to burn fat and get the results you want!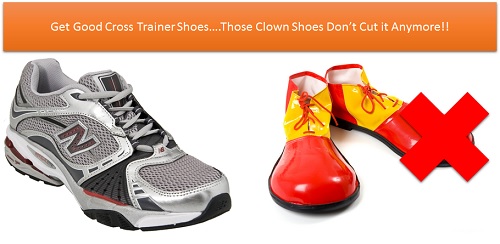 INSANITY Max 30 Day 1 Meal Plan
I will be following the portion controlled meal plans throughout my INSANITY Max 30 journey.
I am not going to lie though, I'm used to the standard calorie counting and macro counting (see: P90X3 Nutrition Guide and What are Macros? for examples).
But I am interested to see how this works. Considering my wife's results with 21 Day Fix, along with three other awesome team members in our Sweet Life Fitness community, I am confident this works. I will most certainly keep everyone posted along the journey!
Here is what I had for today's meals with INSANITY Max 30 Day 1:
Breakfast

Spinach & Mushrooms mixed into 4 Egg Whites with a side of two strips of turkey bacon
1 Cup of Coffee with a Splash of Almond Milk

Snack #1

Tomatoes and Regular Rolled Oatmeal

Lunch

Shakeology (Vegan Chocolate) with 2 tsp. of Peanut Butter and 1 Banana

Snack #2

Apple, Almonds, and Peanuts

1 purple, 1 blue, and 1 orange

Dinner

8 oz. Chicken Breast with a mixed vegetable melody, brown rice, and peas
If you are saying to yourself: "Dude what is with the color stuff you are talking about? Check out the INSANITY Max 30 Nutrition Plan in detail (this post is coming soon!)"
I hope you enjoyed the INSANITY Max 30 Day 1 review!! If you are ready to MAX OUT with me and the other incredible Team Sweet Life Fitness community members, GRAB YOUR COPY today, or fill out my private (and free) challenge group application today:
Yours in #IMAXEDOUT Success,
Coach Bob
P.S. – We are looking for leaders for our Team Sweet Life Beachbody Coaches, if you are a leader ready to take your fitness to the next level, click here to learn more.