Jenn has been such an awesome motivation in our recent challenge groups, and she totally BROUGHT IT with her recent P90X3 journey. During her journey she lost 5 inches off her waist and over 10% in body fat. Check out her before and after photos and her story below.
Way to go Jenn!!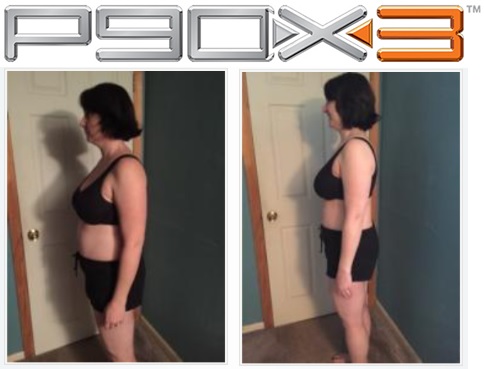 Jenn's P90X3 Story – 90 Days to Transformation
We decided to look for an exercise program to keep us on track, especially with the holidays coming up. We found P90X3, and after taking the fit test, we were cautiously optimistic that we could handle the program (see: can P90X3 work for anyone? and get better at P90X3)
I was very impressed with the quality of the program itself, as well as the production value of the DVD/book set. I was amazed at how strong I started to feel very soon after starting the program, and quickly realized that I was capable of more than just not being fat. I was capable of being fit! Maybe even really fit!
What was the greatest challenge with P90X3?
"One of the biggest challenges for me had always been scheduling my workouts. P90X3, and I alter learned all of Beachbody programs, take that challenge away by setting up a schedule for you" (see: P90X3 Schedule).
5 inches off the waist, 10% body fat GONE, and an awesome transformation to boot. CONGRATULATIONS Jenn on your incredible accomplishment. Be sure to join Jenn with your P90X3 package and you'll get exclusive access to our private groups hosted on Facebook.
What's next for Jenn? She is starting up the new 21 Day Fix program with some awesome people as well!
Congratulations again Jenn for your great P90X3 transformation, and I know this is just the beginning of your amazing journey.
Coach Bob and Team Sweet Life Fitness