It's time…it's Day #1!!! The start of an epic journey of LIIFT4! Be sure to also follow my LIIFT4 Exclusive Blog for the play-by-play. Today we are talking about LIIFT4 Day 1 Chest and Triceps 50/50 Review!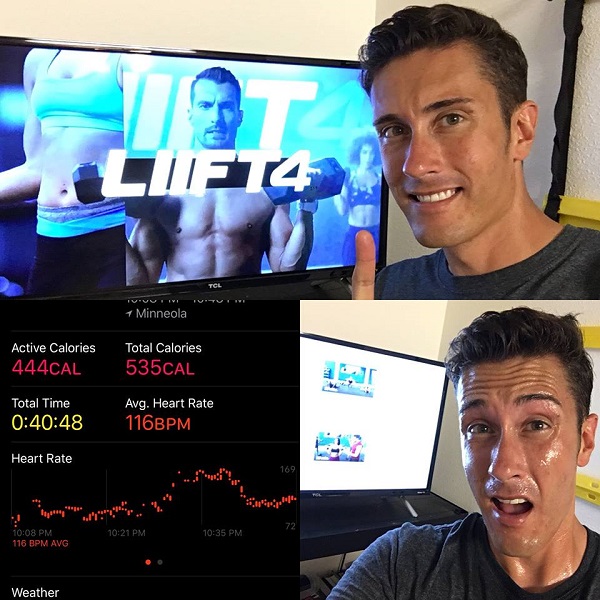 LIIFT4 DAY 1 – Chest and Triceps 50 50 Review
Some of you may remember my Perfect Storm workout. This was essentially a mash-up of Body Beast with INSANITY Max 30. The idea behind the Perfect Storm was that you had both the weightlifting along with the High Intensity cardio component.
But now, LIIFT4 combines both into one beautiful program!
On Chest and Triceps 50/50 for LIIFT4 Day 1, you'll see half of the workout dedicated to weightlifting for your Chests & Triceps, with the second half dedicated to HIIT cardio. You'll then finish of with the fan favorite CORE/ABS workout.
39 total minutes.
Barely any equipment needed.
BOOM!
==>GET LIIFT4 NOW!!<==
LIIFT4 Day 1 – YouTube Video Review
Check out today's video for a preview of the workout moves along with my full review:
==>GET LIIFT4 NOW!!<==
LIIFT4 Day 1 – The MOVES!
You'll experience 3 blocks of this Chest & Tri Mash-Up on LIIFT4 Day 1:
BLOCK 1
Chest Press
Skull Crusher
BLOCK 2
Chest Fly
Tricep Press
BLOCK 3
Soccer Juggles – 60 seconds
Mountain Climbers – 45 seconds
Catchers – 30 seconds
BLOCK 4 – CORE
Rope Climb
Bent Knee Windshield Wipers
LIIFT4 Day 1 Nutrition
You better as heck be following the LIIFT4 Nutrition Plan, fool!
I am currently on Plan C of the nutrition program. My typical day of eating was:
4 Egg Whites / 1 Full Egg mixed with Mushrooms and Onions (1 Red / 2 Greens)
Grape tomatoes with blueberries (1 green / 1 purple)
Shakeology with banana (1 red / 2 purple)
Chicken with rice (1 red / 1 yellow)
Broccoli with Carrots (2 greens)
Double Chicken with double rice (2 red / 2 yellow)
There are days that I nail the nutrition right on the money (those are the great days). And there are some days that I'm either slightly under or over my plan. If I am going to go over, I aim to go over on greens or reds only. Don't mess around much with the yellow or purple containers as they are the big carb eaters.
As for cheat meals – I plan to have none during my LIIFT4 journey. Sure, the guide says you can have cheat meals, but I'm not signing up for that this round!!
Yours in Fitness Success,
Coach Bob