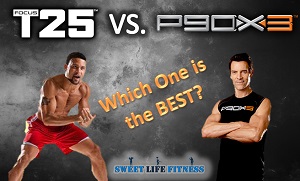 I have had a lot of questions coming through regarding my thoughts on P90X3 vs Focus T25. They are both good programs, but I feel there are HUGE differences between both of them.
Today I will share my thoughts on P90X3 vs Focus T25 so you can determine which one is best for you. Be sure to check out the information below for the case study because one will NOT work as well as the other one depending on where you fall in fitness.
P90X3 vs Focus T25 – The Workouts
Check out this chart that explains some of the details between P90X3 vs Focus T25.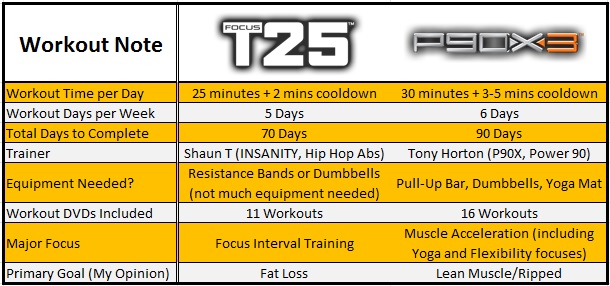 Remember that me and the team are here to help! Whichever program you choose will get you Free Access to our Online Support group on Facebook. Free tips, tricks, and daily fun and motivation to help you get the results you deserve!
Focus T25 or P90X3 – Which One Should YOU Do?
So many team members have asked me, "which one should I start with?" This is a great question, and I have an opinion on this question. Obviously it is my own opinion, but having completed both Focus T25 and P90X3, I realized the HUGE difference between both of them.
My Case Study with Coach Jimmy
Jimmy, who is a Coach on Team Sweet Life lost 49 pounds with Focus T25. We both did a lot of discussion as to why he was so successful with the program. Here are his before and after photos: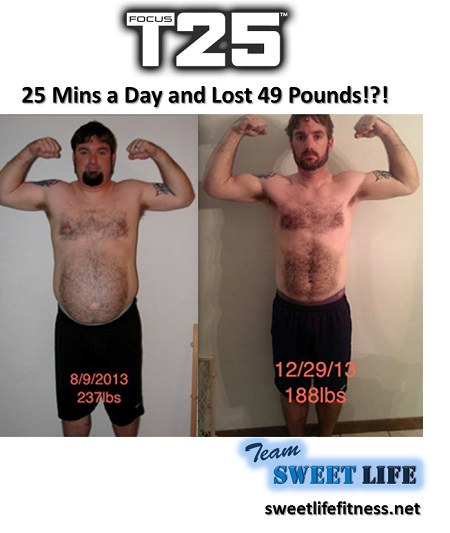 Jimmy had a lot of weight to lose in the beginning. He worked hard at the program and was able to lose a ton of weight with T25. I was doing the same program he was, and really didn't lose as much weight (or should I say "Fat"). This is where the real point of P90X3 vs Focus T25 comes into play.
DETERMINE What your GOAL is: Lose Fat or Get Ripped
If you have a lot of weight to lose, or have a body fat percentage of 20% or more, Focus T25 would be right for you. I use Coach Jimmy as the case example, where he got phenomenal results and regained his fitness. With the success of Focus T25, he has now transitioned to P90X3.
If you are like me and suffer with Skinny Fat (10-19% body fat), it's time to get ripped! Muscle burns fat, and if you are at least in some good physical condition, P90X3 is a good program to jump into.
So here is another handy chart to determine which one is right for you:

Which one is Harder? P90X3 or T25?
After checking out that image, the next question I get a lot of us, which one is harder?
The best I can say about this is that they are both tough in their own right. If you want to get serious results with either program, you'll have to push yourself past your comfort zone.
But if you are someone that has a lot of weight to lose, as I mentioned above, I strongly recommend Focus T25. You can also feel free to check out my Focus T25 Review or also my P90X3 Review for more details.
P90X3 or Focus T25 – Video Review
Coach Bob explains the details in his video review

LET US HELP YOU
We've both been through these programs. We love inspiring others to get the results they deserve with P90X3 vs Focus T25. When you get a program from Sweet Life Fitness (my site), we put you into our exclusive Facebook groups for FREE! This is free motivation, tips, and access to Coach Bob and others who can help! If you already have a program, then you can just Join Sweet Life for Free.
YOU DECIDE: P90X3 vs Focus T25
Based on the information you've read, check out which one is best for you. Either purchase comes with your Free Team Beachbody account and free support from me and the team of Sweet Life Fitness. If you want to get even BETTER results, consider getting the Beachbody Challenge Pack for P90X3 vs Focus T25 for savings and added nutrition.
If you still have questions, don't fret! Comment below and I'll get back to you ASAP.
Yours in Success,
Coach Bob
P.S. – We are looking for Leaders, if you are interested in joining us, click here.
I hope you enjoyed this post on P90X3 vs Focus T25. If you did, click the social media buttons below and share this with those you love!