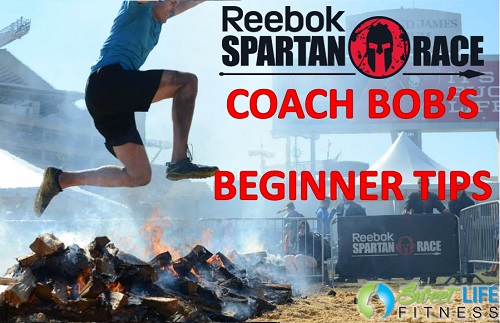 Interested in running a Spartan Race, are you? I'm sure you have a few questions and want to know how to run a Spartan Race without dying, right? Today I'm giving my own Spartan Race Beginner Tips based on my own experience with both the Spartan Race Sprint (3+ miles) and the Spartan Race Super (8+ miles).
You might be asking yourself some questions, that this Spartan Race Beginner Tips post will answer, like:
What type of training do I need to do to prepare for my Spartan Race?
What is the REAL difference between a Sprint, Super, and a Beast Race (and can amateurs do any one they choose)?
What type of obstacles are out there and how many?
I don't really like running, or can't run for a long time, will I make it to see tomorrow???
YOU MAY DIE is plastered all over the place on Spartan Races. Will I die doing this race??
Rest assured I am going to give you my Spartan Race Beginner Tips to answer these questions. I conquered THREE Spartan Races at the time of this post, and didn't do any extensive training other than at-home workouts for around 30 minutes per day. That being said, I feel that almost ANYONE can conquer a Spartan Race.
I'll let you know the details in this post so you can conquer your next Spartan Race and also give you some tips that I wish I knew about before starting my first race back in February of 2014
**I am still an amateur at these races. I am sharing this post with you because, like you, I was looking for WHAT to be prepared with before starting. Now I'm passing the tips I wish I knew about so that you can be prepared!
=>Start YOUR First Spartan Race – Click Here for the Current offers and Discounts on your next Spartan Race<=
Can I Finish a Spartan Race? How do you Train? – Spartan Race Beginner Tips #1
I feel ANYONE can finish a Spartan Race. But the FIRST thing to do is determine what type of race you want to do. There are (technically) three types: Sprint, Super, and BEAST.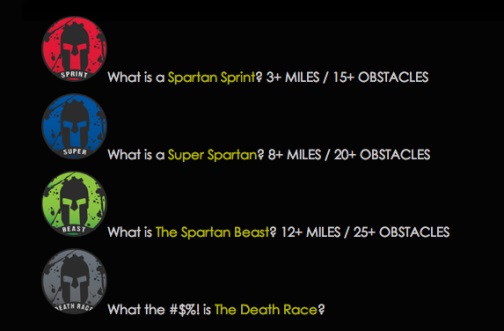 I have NOT yet completed a Spartan Beast (but will be doing that in October 2015). I completed two Spartan Sprints and one Super Spartan to date.
Depending on your fitness level and confidence, I'd start out with a Sprint or Super at most.
There are people of ALL ages, shapes, sizes, and fitness at the Spartan Races. We are talking from the elite fit people to the couch potatoes! There was even a lady who was physically disabled running the race with her supportive and AMAZING team. When I saw her going through the course, I was absolutely inspired. Here is a lady who is KICKING BUTT and not letting anything get in her way.
Almost everyone finishes the Spartan Race. So take a breath, you'll be A-OK my friend. If you can walk around and carry around 25-30 pounds for about a mile or two, you'll be MORE than set.
But if this helps: I WAS SCARED when I first faced my very first Spartan Race. When the disclaimer talks about death, who the heck wouldn't be like: "Uhhh…what???"
I had many of the same questions that I posted at the beginning of this post. I survived both a Sprint and SUPER and had an amazing experience. YOU can too, my friend (keep reading for more Spartan Race beginner tips):
SO HOW DID I TRAIN?
For my Spartan Sprint in 2014 and Spartan Super in April 2014, I trained in the comfort of my home using Tony Horton's P90X3 program. In 30 minutes per day I got what I needed to pull myself over the walls, slide through the mud, and dodge under the barb wire.
For our recent 2015 with our team, I trained with INSANITY Max 30. This program helped me a TON with my endurance and strength. If you are looking for a program that is fun, yet intense, that can also help you lose weight and get in great shape, consider buying INSANITY Max 30 for your Spartan Race training.
=>Start YOUR First Spartan Race – Click Here for the Current offers and Discounts on your next Spartan Race<=
What type of Obstacles are at the Race? – Spartan Race Beginner Tips
This can all depend upon the type of race that you run. However, there are repetitive obstacles that make their famous appearance at almost every race that I'll share in this post.
First off, get comfortable with doing BURPEES. Everytime you miss or skip an obstacle, you have to do 30 wonderful burpee moves.
Steps, Hills, and Rocks – No matter where you run (stadium or in the forests/plains), you'll most likely encounter plenty of stairs or hills or rocky mountains throughout your trip. Get ready to run (or walk…or crawl) up these things time and time again.
O-U-O-U – This stands for "Over, Under, Over, Under". You basically go over a wall, under a wall, over a wall, under a wall. These walls can vary in height.
O-U-T – This stands for "Over, Under, Through". You will go over a wall, under a wall, and then through a hole in a wall.
4, 6, 8, 12 foot walls – You'll most likely encounter some type of wall to jump over. Worried about jumping the wall? Don't worry, even if you aren't on a team, the awesome community of racers will be there to help you get over the walls and feel like a champ!
Traverse Wall – this is a wall that you spiderman across using little planks that you traverse across.
Sandbag (or Bucket) Carry – These can be beastly. They normally have different weights depending on male and female racers. You'll grab a bag or bucket and carry it for a determined distance. After this I always look forward to the next water break station – it drains the energy fast!
Slippery and Muddy Rope Climbs – so the punishment for not completing an obstacle is 30 burpee moves. I totally dropped the ball on this rope climb almost every time and burpee out. You basically climb up a rope and hit a bell at the top, but that for me is still a challenge!
Spear Throw – AKA: The Burpee Maker. This is where you throw a spear into a bail of hay about 20-40 feet away. Precision and a near perfect throwing technique is what will claim you a champ of this obstacle.
Here is a video from my FIRST Spartan Race in Tampa, FL in February 2014. This was a Sprint that included BOTH stadium events (like running stairs/etc), and normal Spartan Race shenanigans (mud and barbwire!)
What to Wear and Bring for your Spartan Race Experience – Spartan Race Beginner Tips
Of all the Spartan Race Beginner Tips, don't ignore what to bring to the big day. The last thing you want is to hate yourself for not bringing what is necessary to survive!
The Right Shorts – Try for dri fit material for warm and cold conditions (cotton is way too heavy and should be avoided at all costs!!!).
The Right Shirt – just like the shorts, avoid cotton at all costs. Try something like a Nike Dri Fit shirt that will handle the mud and conditions you'll be racing through during your journey.
Gloves – SO IMPORTANT for SO MANY REASONS! I dropped the ball and forgot my gloves during my recent Tampa Sprint in 2015 and it sucked! Don't forget to get the gloves. You can go with garden gloves if you want, but any fitness or weight lifting glove works good, especially with the tips of your fingers free (your goal is to protect the palm of your hand).
The Right Shoes – I originally ran in just plain old sneakers (rookie mistake…). I then started using Innov8 TrailRoc shoes (a trail running shoe). Now Reebok offers up Spartan Shoes that work well. For a shoe, you are looking for:

Something that can drain water and mud fairly quickly
A shoe that doesn't hold a bunch of rocks
Something that can be durable to run over multiple terrains and surfaces

Change of Clothes – The ones you start the race with will get pretty muddied up. Go ahead and get yourself a clean change of clothes so you can hang out in the festival area afterwards as you proudly wear your Spartan Race medal!
Here are a few other photos from our Spartan Race Experiences
Will You Actually Die? – Spartan Race Beginner Tips
I have some news: You are going to die.
It's true. You will not get through this life without dying. No one has been able to survive (even famous people!).
So now that you know that you and I aren't going to get out of our life alive, why not live it to the maximum? Sign Up for a Spartan Race and do something AMAZING with your life (trust me, it's a lot of fun and totally worth it!).
So…seriously though…will you actually die?
Most likely not. Unless you are careless or stupid when going through the Spartan Race, you'll be fine. Will there be bruises and cuts and scrapes? Sure. But take it slow, and ENJOY THE EXPERIENCE. This isn't a competition with anyone but yourself. Take it as slow as you want to and enjoy every minute of the Spartan Race.
Did you get value out of my Spartan Race Beginner Tips post today? If so – what are you waiting for? Get started on your first Spartan Race today!
Also comment below with your Spartan Race beginner tips, thoughts, questions, updates, and race stories!
AROO!
Coach Bob