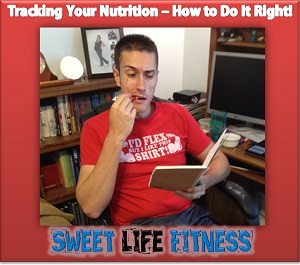 When I first started with my health and fitness, specifically my P90X journey, I ignored nutrition. Looking back, that was a stupid idea, and slowed down my results BIG time. I want to help you avoid the same problems by sharing how you can track your nutrition simply and effectively using MyFitnessPal.
When you track your nutrition with P90X, T25, or whatever program you are doing, you increase your chance of the results you deserve IMMENSELY!
The secret? Know how many calories you need, what your macros need to be, and plug them ALL in! From there you can afford to eat wholesome and healthy to have the energy you need to feel AMAZING, without having to eat like a rabbit or a zombie! I will be explaining all of the necessary steps to track your nutrition easily without feeling like you have to go on a "dreaded diet"!!!
How to Track your Nutrition with your Fitness Program
Check out this video overview (if you haven't seen it yet) on getting things set with tracking your nutrition. Be sure to check below to see the steps to make it easy.
Track your Nutrition the Simple Way
Below is my step-by-step guide on how to track your nutrition with your fitness program.
Before I get to the steps, I want to reinforce something important. While I'm not perfect at fitness, thinking back on my mindset when I started, nutrition was the last thing I worried about. The results were obvious. While your workout accounts for the results, you can see how poor nutrition doesn't give you the ultimate physique you truly desire:
After focusing more on nutrition, and following the steps below, better things can happen:
Don't make the mistake that I made! I am here to help you succeed and get the results you deserve!
Step #1 – Get plugged into a tracking app. Whether that is MyFitnessPal, Tap & Track, or World Fit, just pick one! My preferred is MyFitnessPal, not only because it is FREE, but it also has a ton of foods in the database preloaded for easier tracking.
Step #2 – Know how many Calories you need to eat per day. If your fitness program does not already have this laid out for you, check out Calorie Deficit for Weight Loss to calculate what you need!
Step #3 – Know what your Macronutrients will need to be each day. Macros are proteins, carbs, and fats (the major "building blocks" of calories and food). Depending on the intensity of your workout program, and what you are aiming to achieve, these can vary. Check your program's nutrition guide for the recommended percentages. (As I review more nutrition plans specifically for the Beachbody programs, I will include them in the Nutrition World section of this website for your reference and use).
Step #4 – Take your recommended calories and recommended macronutrients and PLUG them into MyFitnessPal.
From the MyFitnesspal.com home screen, click on "Goals"

Click on "CHANGE GOALS" at the bottom of the Goals Page.
Always choose "Custom" and not Guided. This way you can ensure you are following the plan for how to track your nutrition correctly with your chosen fitness program.

Enter your Calories that you explored from Step #2 above, and your Macros from Step #3. Literally plug them into the sections and hit "Save" – you'll be ALL set!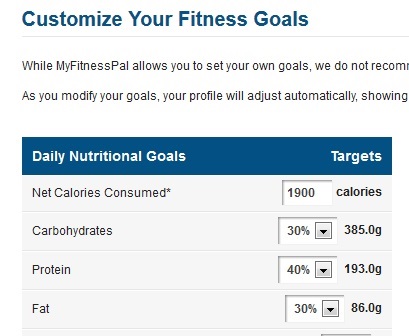 I don't worry about the exercise tracking in MyFitnessPal quite honestly. The nutrition plans, or Calorie deficit calculator I have linked in Step #2 already account for your calorie energy expenditure when you exercise.
Step #5 – PLAN ahead! I always take a look at what I am eating a day in advance. That way you can make sure you hit your macros within 1-5 grams, and your calories within 30-50 calories each day. If you aim to hit those numbers within that margin each day, then GET EXCITED, you are on your way to the results you deserve!!
Still have Questions? Comment below and let's chat more! Also, be sure to Join Sweet Life Fitness for free through Team Beachbody so I can help you achieve those results!
Track your Nutrition like a PRO – Tips to Succeed
A few final tips to let you in on how you can ensure you get the best results, from the ones who have had the best results with P90X, INSANITY and more:
Plan Ahead! When you fail to plan, plan on failing! Give yourself a snapshot of what you will eat the next day. That way you can also
Always hit your Targets – your calories, and three major macronutrients should always be hit within 3-5 grams and 30-50 calories per day for the best results.
Re-Evaluate Plateaus – as you get more fit, or want to build muscle, or change your goals: things change! Adjust your calories and macros if you feel less energy during your workouts or you can't seem to lose that last bit of body fat. Sometimes the smallest adjustment of increasing calories (to rev up the metabolism) can help immensely.
Be Consistent – The secret sauce of all fitness results comes through consistency. Hit those calories and macros each day.
Eat Real Foods – Along with tracking like a pro, eat like a pro! Eat wholesome ingredients often. Ditch the soda and pick up the water for big results. As for a good nutritional dose of vitamins and minerals, I normally drink Shakeology as my lunch (see "What is Shakeology?")
I hope this post on how to track your nutrition with your fitness program was helpful. Any questions? Comment below! Be sure to also share this post if you found it helpful so that others can also benefit from it on their fitness journey.
Yours in Fitness Success,
Coach Bob