SUPER pumped to give a CIZE Workout Review and some release date details on Beachbody's newest program from Shaun T. As some of my followers know, after my recent INSANITY Max 30 results, I'm a huge Shaun T fan. On this page be prepared to learn about my CIZE workout review and how you can grab your copy today!
CIZE Workout Review – Why is CIZE the "End of Exercize"?
For those people who are a big fan of dance or Zumba, this will be a great program for you. The reason CIZE is called the "end of exercize" is because:
It is not like exercise or intense workout programs such as P90X and INSANITY.
It is FUN to do. You learn easy and advanced dance moves that go along to the music
It is only 30-40 minutes per day.
ANYONE can do this from a young person to your grandma!
Check out this video preview, and be sure to get your name on the list below the video!
=>Click here to learn more about CIZE<=

So, what exactly is CIZE?
Get into great shape at home with Shaun T's latest dance fitness program. The four-week program is so much fun while you learn to dance you won't even realize you are getting a great cardio workout. CIZE truly is "The end of exercize." In each routine, Shaun breaks down the moves step-by-step, and builds them into a full dance sequence in just 35-40 minutes. So, while you are mastering the dance moves, you'll also be burning fat and calories. And it's all choreographed to the latest pop music to keep you energized and moving, so you'll get a great workout while learning the kinds of dance moves you see in music videos and on dance shows. Stick with Shaun T and you'll be dancing from Day One!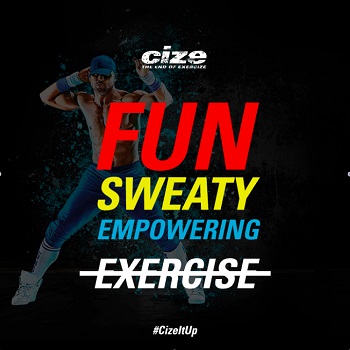 Some other great points on the CIZE Workout Review:
PROGRAM LENGTH: 4 weeks total
TRAINER: The amazing Shaun T.
WORKOUT TIME: 35-40 minutes per day
CIZE Workout Review – Release Date Details and a Preview!
CIZE is NOW available!
Also, check out this awesome video preview on one of the many CIZE workout moves:

After you check out the preview, see my personal CIZE You Got This Review from Day 2 of the program.
Questions about the CIZE workout and release date? Comment below and ask away!!
Yours,
Coach Bob