With the CORE DE FORCE program taking results by storm with MMA-style workouts, you've come to the right place for the CORE DE FORCE Calendar and Workout Schedule!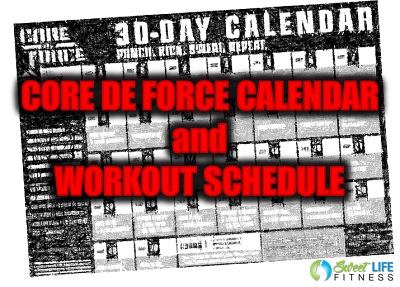 Below are the CORE DE FORCE Calendar options. At the moment there are three different calendars you can download.
The first calendar is the regular 30 Day CORE DE FORCE Calendar. The second is the Deluxe Calendar (if you chose CORE DE FORCE Deluxe workouts). The third calendar is the HYBRID Calendar! The Hybrid calendar is a great mix of both CORE DE FORCE and Beachbody on Demand workouts.
CORE DE FORCE Calendar and Workout Schedules
First things first, if you don't have the workout yet, be sure to get it here for the best price.
CORE DE FORCE 30 Day Calendar
This is the main calendar for CORE DE FORCE. It includes 30 days of going through the program. Be sure to match it with the CORE DE FORCE Nutrition Plan for the best results (including Shakeology).
=>Click here to download the CORE DE FORCE 30 Day Calendar<=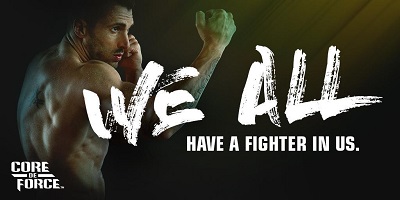 CORE DE FORCE DELUXE Calendar
If you are ready to take your CORE DE FORCE experience up a notch, then get the Deluxe Workouts that pack a new punch. You could start with teh 30 day calendar above, and then use the next 30 days for the Deluxe experience!
=>Click here to download the CORE DE FORCE Deluxe Workout calendar<=
CORE DE FORCE Hybrid Calendar
 The benefits of having a Beachbody on Demand membership is that you can use this hybrid calendar. This will combine the likes of CORE DE FORCE with other great programs that can only be found within the Beachbody on Demand library.
 =>Click here to download the CORE DE FORCE Hybrid calendar<=
One of the great workouts you'll do with the CORE DE FORCE Calendar include CORE DE FORCE MMA Review – which is mixed martial arts to a whole new (weight losing) extreme!
Everything you need for your CORE DE FORCE Calendar
Beyond just having the PDF downloads, it's important to know WHY you are doing CORE DE FORCE. Whether your goal is to lose weight or take your MMA or endurance-skills up to the next level, the below information is important!
What makes CORE DE FORCE so effective?
CORE DE FORCE isn't your run-of-the-mill Kickboxing workout. Each move, whether it's a jab, a kick, or an uppercut, works your core from every angle. Joel and Jericho call this 360-Degree Core Training—and it's more effective than traditional abdominal training to help you tighten up your entire midsection and carve a more defined waist.
What makes CORE DE FORCE unique?
CORE DE FORCE is packed with the best of MMA-inspired training. In 3-minute "rounds" you'll get Boxing, Kickboxing, and Muay Thai knee-elbow combinations, bodyweight training, and cardio spikes—all designed to help you lose the belly and shred body fat. Just hit it hard for 3 minutes at a time and before you know it, you'll be done!
What if I don't WANT to do CORE DE FORCE?
If you're not too sure about CORE DE FORCE, you can also check out the other options. In fact, Joel Freeman, who is the trainer in Core De Force recently did LIIFT4. Check out the LIIFT4 details here.

 Do you already have CORE DE FORCE and you're looking for a great community of support? Then join our online community. I'll give you free coaching and our entire team is a TON of fun to interact with virtually. Just JOIN SWEET LIFE FREE to get started!
Yours in Fitness Success,
Coach Bob