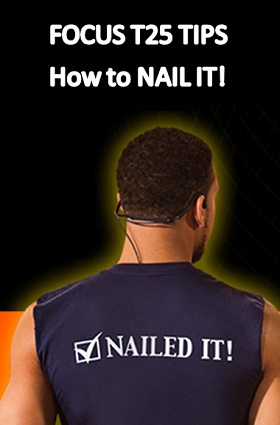 When you look at the Focus T25 Schedule and see the "Nailed it" or "Barely Made it" at the bottom of each workout, did you ever really wonder what that means? In today's Focus T25 Tips, I'll share four things to focus on to confidently know if you truly "Nailed it".
Focus T25 Tips – How to Be sure you are "Nailing It" Daily
Check out today's video from YouTube to be sure that you are nailing it daily with Focus T25. Remember that "Nailing it" does NOT mean that you have to keep up with Shaun T. and the gang all 25 minutes. See the video to learn more!
Want more support for your journey? Join Sweet Life for Free and I'll help coach you, or get the Focus T25 Program today!
Focus T25 Tips to Check off "NAILED IT" Daily
To recap what I mentioned in the video, here are the four steps to ensure you are NAILING IT both Daily and throughout your entire Focus T25 journey. As I mentioned in my Focus T25 Review, don't ever think Focus T25 is too hard. I think a lot of times we believe we aren't doing it right because we aren't perfectionists with what you see on the DVD. Instead, zero in on building up your OWN challenge to get the results you deserve, as I'll mention in these next four steps:
NAILED IT Checklist #1: Heart Rate Calculation – Be sure you are working out in your fat burning zone throughout the entire Focus T25 workout. You can check what your target heart rate needs to be, and then aim to hit that at every workout. Depending on your level of fitness, some people will be different. For those just starting off, you might get an incredible heart rate and burn off of extreme modifications. That is OK and it means that it is WORKING! Keep up the good fight and in time you'll see that you need to push yourself harder to keep your heart rate up. This simple means that you are getting better at Focus T25.
NAILED IT Checklist #2: Challenge Yourself – Going alongside of Focus T25 Tips #1, always challenge yourself to the next level. As you get more fit and the workout seems to be getting easier, push yourself harder so that it is always a challenge. I am one to always try and make the workouts easier, but what I have learned is that when we stick in the easier zone we tend to plateau (no fun for fat loss!).
NAILED IT Checklist #3: Nutrition Guide – Always follow the Focus T25 Nutrition Guide daily and consistently. If you are having a problem scaling back from old food habits (or a food addiction), remember that this is just 60 days. Envision WHY you want to succeed so badly with Focus T25, and know that one day completed is a day closer to your long-term success.
NAILED IT Checklist #4: Measurements vs the Scale – The scale is the biggest scam in weight loss history. When we go through an exercise program all kinds of things happen in our body. Instead of focusing on the scale, focus on the measurements. Use a seamstress measuring tape, or a body fat caliper, to track your overall waist size and fat loss. After all, FAT loss is the true key and measure of success after all!
Recent people who NAILED It with Focus T25
Following the Focus T25 tips daily will help you get closer to success. Check out our very own Team Sweet Life Focus T25 success stories too!
Apply the Focus T25 Tips and focus on NAILING IT every single day. If you do, I have no doubt you'll be a rockstar!
Yours in Success,
Coach Bob
Want more help and motivation for your Focus T25 journey? Connect with Coach Bob by Joining Sweet Life Free on Team Beachbody.