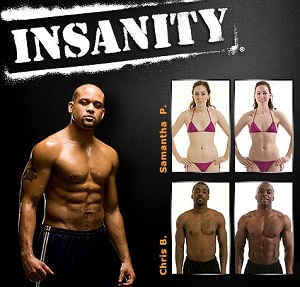 INSANITY is the workout program that has changed so many lives and burns TONS of body fat. The INSANITY workout schedule and INSANITY Calendar  has provided two months of some of the most intense workouts to get you the results you deserve, fast. But with fast results means harder work. These are two months of the most challenging workouts I have ever done, so get ready to DIG DEEP!
Below is the full INSANITY  schedule PDF that provides what to do each day of the workout. This calendar will give you an example of what you will experience throughout your INSANITY journey.
Whoops! Looking for the Max 30 version? Click Here for INSANITY Max 30 Calendar.
Most workouts in Month 1 are around 30-40 minutes as you'll notice on the Insanity Calendar below. In month 2, you'll be doing 45-60 minutes (get the bucket ready to catch all of that sweat!). If you don't yet have INSANITY, I highly recommend grabbing this great INSANITY deal for the best possible results. Plus you'll of course be added to our Team Sweet Life Fitness FB page where we provide free support, tips, and motivation to help you get the results you DESERVE!
INSANITY Workout Schedule PDF Download – Including entire INSANITY Calendar
Click the image to be taken to the PDF download of the INSANITY Workout schedule now!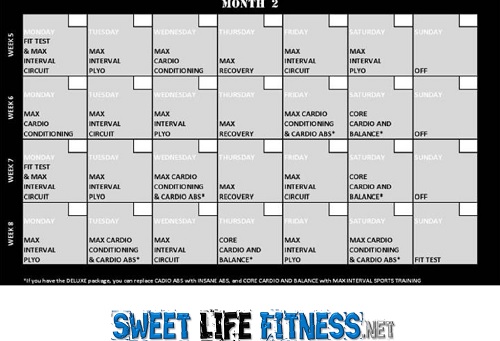 Alongside of the Insanity workout schedule, be sure to also check out the INSANITY Fit Test on your Beachbody on Demand account. With the Fit Test you can make sure you track your progress as you work on getting those RESULTS that you DESERVE!
INSANITY Schedule Bonus
As I mention in the title of this post, there is a bonus I offer to everyone who is part of Team Sweet Life within Team Beachbody. If you already have the INSANITY workout program, Join Sweet Life Free and you'll get added to our exclusive online FREE Facebook Group. Motivation, support, fun, and tips are shared consistently in this group!
If you don't yet have the INSANITY program and are ready to put the Insanity workout schedule and Insanity Calendar to the test, click the link below. You'll be taken to the information about INSANITY.
What are the Benefits of the INSANITY Schedule?
INSANITY can most definitely give you the results you deserve in just 60 days. But obviously it's not just called "INSANITY" for no reason. You'll be pushed to your limits day in and day out. That is why I provide everyone FREE support as their Coach as you progress through the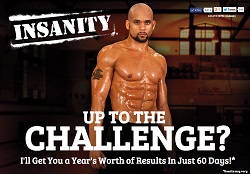 program. Once you get the program at the best price here, you'll be added to our free online support groups and have access to me anytime to ask questions.
How do you know if INSANITY would be right for you? Check out these good points:
If you like cardio and high intensity moves
If you are interested in getting the best possible results in only 60 days.
You don't mind getting sweaty and pushing yourself to the maximum
You are fine with going outside of your comfort zone to get the best results possible.
The benefit of following something like the INSANITY Calendar is that it does follow the max interval training. I know from personal experience during my INSANITY journey is that it pushes you to the maximum for a long period of time. Then, it focuses on a very short period of rest (like, 10-20 seconds? LOL). The key is to push yourself to your personal challenge point as much as possible, which will burn body fat like crazy.
What are some ALTERNATIVES to INSANITY?
There are actually a few alternatives to the INSANITY Workout Schedule that you can follow that I'll list now:
If you would rather lift weights versus having only cardio-based endurance workouts. A good option is something like P90X. Check out P90X vs INSANITY for more tips.
If you like the idea of INSANITY but you are a bit concerned about the idea of 45-60 minute workouts, check out the NEWER INSANITY workout program that is only 30 minutes per day! See INSANITY Max 30 Review.
Are you fired up about the INSANITY Workout Schedule and are ready to get started? If you are ready to get started and rock and roll to your desired Sweet Life of Fitness, start your INSANITY challenge now:

Thanks for checking out the Insanity Schedule post here on Sweet Life Fitness. Be sure to also check out the other fun tips and tricks here on the page.
Yours in Fitness Success,
Coach Bob