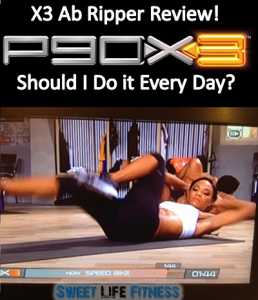 OK let's face it, if you are anything like me you are here to view the P90X3 X3 Ab Ripper review because you want AMAZING abs!
Am I right or am I right?
Abs are like that Ghost you can never see. You work hard to figure out how to get them to show more, with no luck. Rest assured, in today's post I'm talking about my P90X3 X3 Ab Ripper review and how I was able to use it to my advantage a bit in my quest for better Abs.
P90X3 X3 Ab Ripper – Should I do this Every Day?
In the video below, you'll see some moves from the P90X3 X3 Ab Ripper program along with my thoughts on how to better define your abs.
Interested in the resources I mention in the video? Click below to learn more about them:
P90X3 Elite Block – Includes X3 ab ripper along with Complex Upper and Lower workouts.
P90X One-on-One Killer Abs – A great alternative that mixes both the Power 90 Abs and P90X Abs. This one is about 25 minutes and never fails to rip up my abs!
P90X3 X3 Ab Ripper – Best Days to Do the Workout
As I mentioned in the video, if you want your ABS to show, you need to get your body fat percentage around 8% for men and 12% for women. Using workouts like CVX or Agility X will help burn extra body fat.
If you are mixing in P90X3 X3 Ab Ripper with your regular P90X3 Schedule, I mix the ab ripper on days that I have the cardio workout. What I DO NOT do is both the main workout and X3 back-to-back. I like to do P90X3 X3 Ab Ripper first and really BRING IT. Then, later in the day (or around one hour in between) hit the real workout. This way I KNOW I'm not burned out prior to doing the Ab Ripper workout, and can dig deep to develop my ab muscles.
So to recap:
X3 Ab Ripper + Agility X
X3 Ab Ripper + CVX
X3 Ab Ripper + MMX
P90X3 X3 Ab Ripper Review
What I liked about the X3 Ab Ripper is the focus on the overall core and not just the washboard abs. Why? Because focusing on your core helps strengthen your back, your obliques, and lower abs. These things combined can help really sharpen your abs (after you lose body fat) and get the desired V-cut everyone is excited about.
Workout Length: 15 minutes
Equipment Needed: Mat, Water, and a Light Set of Dumbbells
Average Calories Burned: 100-150 (Heck, its only 15 mins lol)
The first move you do is somewhat strange: the Tin Man Windmill. I figure this is more of a stretch and warm-up for the core and back prior to hammering out those abs!
DOLPHIN HOPS: After the ease of Tin Man Windmill, the fire starts up with the Dolphin Hops! You start off in a Sphinx plank and jump your legs up towards your arms. I think this one also works the shoulders alongside of the core. I started having my shoulders SCREAM at me about half-way through the move.
C-Y REACHES: At the end of this one, if you aren't feeling your abs, you might want to check to be sure you are alive. Don't focus on your lower back (ouch), but your entire core to maximize this particular move.
SPHYINX CRUNCH HOLD: Another move that burned not only the core but the shoulders as well. My goal for this one is focusing on keeping that butt out of the air! Sticking your butt in the air defeats the purpose of what this move is trying to do for you, so keep your butt down, and your abs tight – trust me it'll hurt so good!
5-WAY ABRINOME: From the classic P90X2 Ab Ripper series, this time we are doing 5 different ways on the abrinome. For those of you who really want to define your lower abs, THIS move will do it for you 100%.
HIP DROP TWIST: Here is the move where you'll need to use a weight! Nothing heavy, a nice 5-10 pound single dumbbells will do the trick on this one.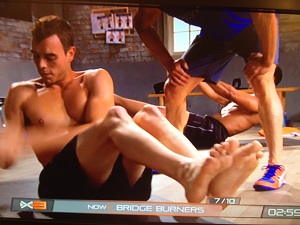 BRIDGE BURNERS: Another great weighted dumbbell move. This one is a mash-up of a Russian Twist move but much more focused and crazy! Think of it like P90X Ab Ripper Mason Twists meets the evil stepmother of Abs LOL.
SPEED BIKE: And to top it all off, you do these little devils. I think what makes this move the most effective is the variations on speeds (activating the fast twitch muscles).
And that is the workout in a nutshell!
If you enjoyed this P90X3 X3 Ab Ripper review, do me a favor and LIKE and Share this post using the social media buttons below!
Yours in X3 Success,
Coach Bob
P.S. – I am looking for leaders who want to get paid to get and stay fit with the P90X programs. If you are a leader CLICK HERE and see our free webinar.