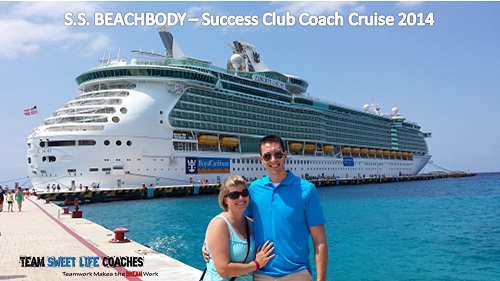 Time for the SS Beachbody Cruise Success Club Trip review! This is the review of the free 2014 Beachbody Cruise we went on with our team.
The sun was shining bright in Fort Lauderdale, Florida as we pulled into Port Everglades to board the Royal Caribbean Liberty of the Seas (aka: SS Beachbody).
For the next six days and five nights both Cristen (my wife) and I were ready to sale the seas to Cozumel Mexico and Grand Cayman Islands. (Say…WHAATT???)
The FREE cruise was paid for through the SS Beachbody Cruise Success Club Trip that we earned. I'll explain how I earned it, and how you can earn it too as a coach.
SS Beachbody Cruise Success Club Trip – My Review!
The last time I was on a cruise was in 1996, so I barely remember anything!
I was also excited because this was Cristen's FIRST cruise ever. If you would have asked myself a few years ago, before I started with Beachbody if I would be on a FREE Cruise, I would have laughed at you and said "I can't do that, I'm not that good at this whole "Beachbody Thing".
But here we are – living this part of the Sweet Life.
I often ask myself…
What if I wouldn't have taken that leap of faith to be a coach during my P90X fitness journey?
What if I would have dismissed this as a "pyramid scheme" or Beachbody Scam due to my lack of knowledge about what this really is?
What if I would have thought that $40 to sign-up and $90/mo for Shakeology was out of my budget (which it was at the time?).
Get the Answers for yourself…See all about Beachbody Coaching Here.
Sometimes you have to take that leap of faith. God pushes us certain ways for certain reasons, and I'm starting to understand why these things happen for such a great reason. It's beyond a free trip. It's beyond making income. It's about helping people live a healthy fulfilling lifestyle.
I think the excitement really took off as we boarded the ship and also saw Tony Horton from P90X as we were checking in (yes, I had a nerd moment and had to contain myself LOL).
After we got our bags and checked out our room, we made a beeline for the top deck to check out the pools and the activity. There were a lot of GREAT Beachbody Coaches and our team up on the deck. It was so much fun to see everyone and get ready to set sail to ultimate bliss!
So I know a lot of you are wondering: Did I GAIN weight on the cruise? After all, a recent poll that was showcased by ABC News claims that people gain on average 13 pounds going on a cruise!
I don't blame them!! With unlimited, all inclusive food, and snack bars open 24 hours a day, it can be tough. Did I cheat? Absolutely! Did I eat dessert? You bet (the "Chocolate Sensation" dessert was to die for). Did I drink? Yes! I never usually drink Alcohol much anymore, but we had about 3-4 drinks.
After all the shenanigans: I lost 2.4 pounds!!!! See how you can also lose weight on a cruise.
I was honestly a bit scared. Since I started the cruise still on my P90X3 Journey, I did NOT want to blow my results, but I also didn't want to restrict myself to no fun at all. So here was my plan to make sure that I did not meet the statistic of the Cruise fat gain!! If you are going on a cruise (or returning soon), feel free to follow this plan or steal it for the future:
Use the steps for EVERYTHING. Yes my quads are burning. We took the stairs up to the top deck, to the bottom deck, and everywhere in between. This was burning all kinds of calories, and was killing my legs by the end of the week (but totally worth it!)
Walk Walk Walk Walk. We walked the top deck a lot to enjoy the sites and sounds of the cruise (also the sunsets were phenomenal). We also decided to walk to 7-Mile Beach in Grand Cayman on Day 4 instead of paying for a Taxi (we saved fat and cash! LOL).
Engage in the Free Workouts. After seeing these guys on the DVDs for the last few years, Working out with Shaun T. and Tony live on the boat was awesome! Now, if you aren't on the next Beachbody Cruise (whenever that may be), make a commitment to stop by the Gym, or bring a portable DVD player for your favorite Beachbody program to do each and every day.
Beyond the workouts with Shaun T. and Tony Horton and hearing from some of the BEST leaders within Beachbody, we also had a chance to unwind, relax, an unplug! Honestly, I never realized how connected we all are on social media, the blog, and YouTube until I unplug for a solid week. It actually felt kind of nice to relax. I did miss my P90X3 Challengers, my Coaches, and all of you awesome people as well, so I am glad to be back.
See all of my Beachbody Cruise photos on Facebook
SS Beachbody Cruise Success Club Trip 2014 Video Review
Check out the video review on my success club trip below!
How about our 2015 Trip? FREE Trip to Cancun Mexico at the Moon Palace Resort
Next year we are going to Cancun (which I'm blessed to say is also free!). I didn't realize the "legitness" of this trip until I realized how exclusive the Moon Palace Resort actually was (it's like $500/night to stay there during the time we will be going!!). Check out my review of the 2015 Success Club Trip: Beachbody Coach Success Club Trip 2015 Review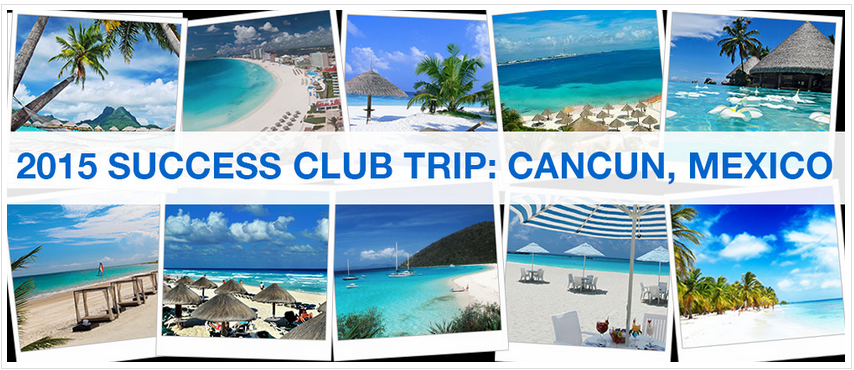 So is it "Tough" to achieve the free trips? Absolutely not! If you follow what I'll teach you as your mentor and coach, and stay consistent with doing the RIGHT thing, it will grow and help you achieve these things.
Become a Product of the Product – This means: do the workout, drink Shakeology, and stay committed to living a healthy and fulfilling life.
Invite others to Stay Inspired – invite people to your online support groups, your challenge groups, and your team daily. (And NO you do not need to sell as a Beachbody Coach!).
Personal Development – the one piece people ignore (who usually are not successful coaches). Engage in 10 mins or more of personal development each day ("The Slight Edge" is a fantastic book to start with!!).
If you are not a coach with Team Sweet Life Beachbody Coaches yet, check out the online presentation and we can chat more about if this is right for you. Thanks again for reading my SS Beachbody Cruise Success Club Trip 2014. It was truly a blessing to be a part of this great trip with inspiring people. I look forward to the future! Update: See my 2016 Cruise with Beachbody!
Coach Bob