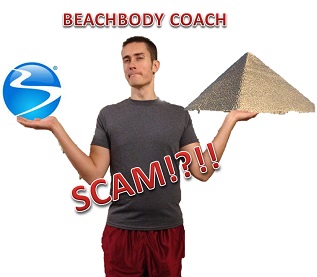 You might be asking, what is the deal with Beachbody Coaching? Does a Beachbody Coach Scam exist, and is it another dreaded Pyramid Scheme?
I assume you know a little about Beachbody. They are the company founded in 1998 that has sold two of the best rated infomercial fitness products like P90X and INSANITY. They also have Shakeology, the nutritional supplement shake.
If you are like I was, you may have heard about this Beachbody Coach Opportunity, and are wondering if it is a Pyramid Scheme or at worst, a Beachbody Coach Scam!
Today I will share from my own perspective what I have learned in researching and studying the Beachbody company. I hope this info is helpful to you while diving into the Beachbody Scam.
Beachbody Coach Scam – A Pyramid Scheme?
I actually used to think my wife was in a pyramid scheme (yes, although she does disagre with me LOL). While I won't share the company's name that she was involved with, I felt we were spending MORE money that we were "supposed to make".
I shut off the idea of any "Business Opportunity", "Independent Business Owner", or "Multi-Level Marketing" in my life. It was scary, and kind of yucky.
Long story short, after completing P90X and losing 70 pounds (that story is here), I came across the Beachbody Coach Opportunity. I learned that it was network marketing (uh oh!!) and had a flashback to my wife's company (cough, pyramid scheme?). Was this just another Beachbody Coach Scam?
Because I was in love with the results I was getting with Beachbody's programs, along with the need to connect with a community for more support, I gave it a shot. The next step in my skepticism if there was a Beachbody Coach Scam or Pyramid Scheme, I dug deep into the business. Check out my video for my review on how I discovered the difference between a Pyramid Scheme and Beachbody Coaching below.

As I mention above, illegal pyramid schemes work on the concept of NO product OR a product that the marketplace doesn't value. A good example is a friend getting into a MLM structure for the purpose of selling Post-It notes….
Yeah…post-it notes….
All of a sudden they are in love with post-it notes (I know…right?). But you know all they care about is getting money and getting you into the scheme (let's be real, it's tough to get too excited about post-it notes lol – we'd definitely talk about a post-it note scam vs a Beachbody Coach Scam at that point).
Beachbody on the other hand has helped thousands with P90X and INSANITY alone. People are passionate about the products because they SEE them work and they love their new health and bodies that these products promote (see Sweet Results for just a few examples. These are not just Beachbody Coaches, but customers too!). This is what made the turning point for me personally.
See the value? I'll help you launch off
the ground. I can't guarantee how much income you will make, but I will say that your income is a direct reflection of the lives you help change. And if you think it's all not working for you, you can cancel anytime. In fact, if you decide to cancel within 30 days, you can do that with a full refund.
What is a Pyramid Scheme or Scam After All?
In case you didn't see the video above, a pyramid scheme isn't what I originally thought it was!
A pyramid scheme is one where you get paid on the pure recruitment of other people. You don't sell any products. You get someone to join by paying $100, and for every person they recruit, they will make $100 less a 25% cut that you will get as their upline. The result? The person AT THE TOP makes all the money, and the guy at the bottom gets screwed.
If a Beachbody Coach Scam existed, I would not have stuck around long. My name and brand are SO much more important to me, and my friends (including you) than making money.
After working with Beachbody for a few years, I actually started thinking my REAL JOB was a Pyramid Scheme. After all, anytime you have a President at the Top of a Company, it would be hard to meet or exceed his income, unless you play the political battle to fight to the top (if you are lucky, see Beachbody MLM for more info on that topic).
Now some facts about why I think a Beachbody Coach Scam does not exist, and if you are interested in coaching, what you should consider:
I earn, ZERO, ZIP, NADA when a Coach joins our Team. Even if a ton of people sign-up and join Team Sweet Life, I get nothing. I only get paid when the team is successful. I earn money only when I help others succeed in their health and fitness.
Absolutely NO INVENTORY on hand. I don't "Buy" things to distribute. I don't fill up my garage with products and don't have to host BS meetings where people feel obligated to order something.
Absolutely ZERO quota. My mom is a Coach for a Discount on Shakeology. I don't even think she knows how to log into the Coach Online Office (lol).
I earn a LOT more money than thousands of people who have joined WAY before me as a Coach. Your success has nothing to do when you join, the success lies within what you do when you join.
Socially Acceptable. Beachbody spends $150 million per year to advertise P90X, INSANITY, and more on the TV. People know this brand, and it's the 69th fastest growing company in America. People all across US and Canada are joining Team Sweet Life because they can have a meaning behind helping themselves get fit and healthy while helping others too.
Want to see the real deal? Check this post: The TRUTH Behind Beachbody Coaching
 How much is it to "Get Started" if it's not a Beachbody Coach Scam?
In the video I talk about the cost of a franchise. Luckily, this isn't nearly that expensive (considering the amount of Beachbody Coach income you could make). Here are the details:
$39.95 – This gives you access to your Coach Online Office, 3 websites for products, and Game Plan tools kit. You can get this fee completely waived if you get a Challenge Pack during the application (get your next workout program and you'll get Shakeology included with the pack).
$99.96 – If you already drink Shakeology, this price is your discounted (25% off) price. Customers ask about Shakeology all of the time, so it's important to be a product of the product by drinking this regularly for your own health and nutrition. It's optional, but when someone asks and you don't even drink it, how do you expect your customers to benefit from it?
Total Cost to Get Started: $39.95-$205 (depending on if you get a Challenge Pack, just Shakeology, or just the Game Plan tools kit).
Monthly Costs:
$15.95 – This starts on your second month as a Coach. This covers all customer service, shipping, billing, and website maintenance for you.
$99.96 – The cost of Shakeology if you are on auto-ship.
Total Monthly Cost (if you have Shakeology): $115.91 (and the goal you should have is to get this all for FREE with the income you'll produce).
I'm glad to say that a Beachbody Coach Scam does not exist. Also, luckily there is no secret Pyramid Scheme going on either.
I hope you found this post helpful, especially if you are looking around to understand Beachbody Coaching a little better.
If you are interested in joining a team, I'm looking for passionate and serious people who are interested in changing lives with a purpose. If that sounds like you, click the button below to get started with Team Sweet Life. I'll reach out to you within 12 hours to start you off right!
Not sure and want more info? Check out our FREE Team Sweet Life Coach Presentation to get all the details in the free webinar:

=>Click here to see the FREE Team Sweet Life Coaching webinar<=
What do you get from Team Sweet Life?
1 on 1 support and coaching. I take a lot of time with my Coaches to get you started right.
Enhanced Private Training Site for Team Sweet Life Only. Find out how we earn and grow so big by going through training that will get you results from Day #1
Fun, community, support, and long-time friendships!
But I don't work with everyone. I only seek passionate individuals ready to change their life. So if that sounds like you, enter your name and e-mail to see my free private video about Coaching:
Thanks for visiting the Beachbody Coach Scam information.
Yours in Success,
Coach Bob