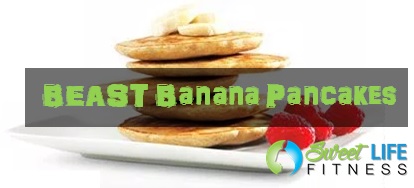 We had a TON of fun making today's nutritional recipe: BEAST Banana Pancakes! I'm currently on my second round of Body Beast with the goal of adding a bit more muscle. I've truly learned that muscle is such a CRUCIAL building block of a healthy body. There is one thing to be slim or skinny, but a whole other thing to be FIT (and FIT is what counts).
If you are looking for a great, filling, and nutritious option for breakfast, get ready for Beast Banana Pancakes. These are especially useful if you are bulking (adding muscle) with a program like Body Beast.
BEAST Banana Pancakes – Coach Bob Makes Pancakes!
Check out today's video on our experience making Beast Banana Pancakes:
*Please note: I subtracted Base Shake from my daughter's serving. If you are serving to kids, please remove the added protein. The regular cooked pancakes are meant for adults. Click here to learn more about Base Shake and the Beast Supplements.
Beast Banana Pancakes Recipe and Ingredients
The Beast Banana Pancakes account for: 2 STARCH 1 FRUIT 2 PROTEIN 1 FAT on the Body Beast Nutrition Guide. For the 21 Day Fix Nutrition Guide and the INSANITY Max 30 Nutrition, replace the "starch" as a Carb (yellow container).
If you want to adjust, you can get a different type of protein (just keep in mind that Base Shake is not flavored – adding a flavored protein may make the pancakes taste funny!). You can also get gluten free flour if you would like to do so.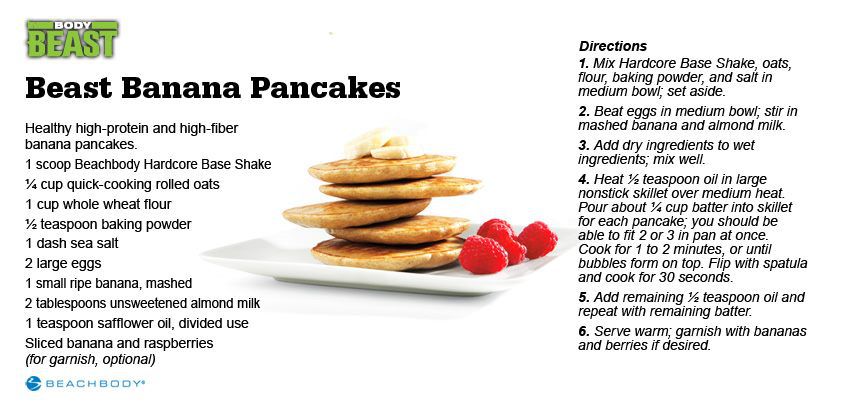 Here are the nutritional facts for the Beast Banana Pancakes (keep in mind that 1 serving is 3 pancakes). These facts are found on MyFitnessPal. If you don't use that app, it is VERY helpful (and free), check out How to Use MyFitnessPal.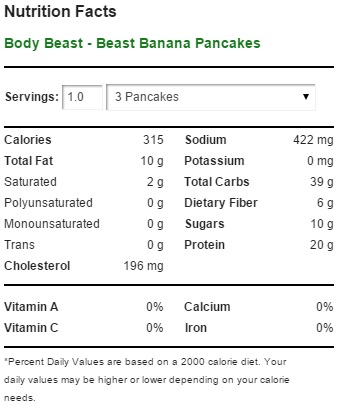 Some people get scared when they see 39g of carbs. Remember that carbs are NOT a bad thing when they are used correctly. Carbs are a source of energy, and your goal is to eat carbs that aren't met with FAKE sugar or low fiber. Plus, if your goal is building muscle, you need carbs like WHOA! Check out my list of Good Carbs vs Bad Carbs to know what works the best.
Want to get FIT and look & feel great with me and the team? Click this banner below and let's change our lives together:
Already have your fitness program? Join Sweet Life Fitness for free and let's rock this thing!
Yours in Fitness Success,
Coach Bob