Sagi Kalev (Body Beast) along with Autumn Calabrese (21 Day Fix) have collaborated in this new awesome program (learn more details here). Today you can get your questions answered and use the free calculator tool with the Master's Hammer and Chisel Nutrition Plan.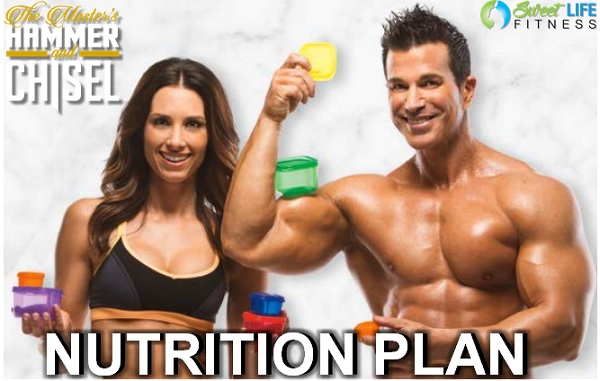 The Master's Hammer and Chisel Nutrition Plan features the portion control containers that are also in the 21 Day Fix Meal Plan and the INSANITY Max 30 nutrition plan, just to name a few.
I personally LOVE the portion control containers for a few reasons:
It helps you with proper meal planning based on your fitness goals (learn more about meal planning here)
It already focuses on your macronutrient needs without having to calculate everything
It has helped me immensely in achieving good results recently with my INSANITY Max 30 review.
The first step below is to calculate what you need (based on your goals) for The Master's Hammer and Chisel program. This starts with the Hammer and Chisel Nutrition Plan calculator below. Fill in your stats to get your customized meal plan.
Hammer and Chisel Nutrition Plan Calculator
The first step is to determine which plan you need to eat towards. Answer the quiz below to get your number!
STEP 2 – After you get "YOUR SCORE" from the quiz above, see what PLAN you are on using the guide below: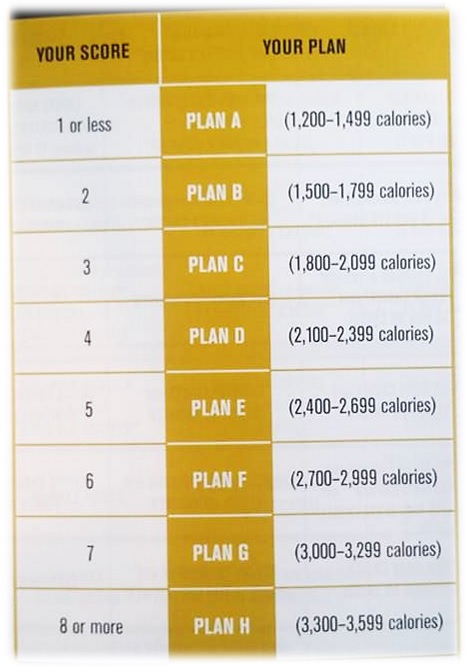 STEP 3
Now that you have your score, and your plan, you know how many calories you have to eat per day. But they make it SUPER simple to meet your plan targets through the Container System.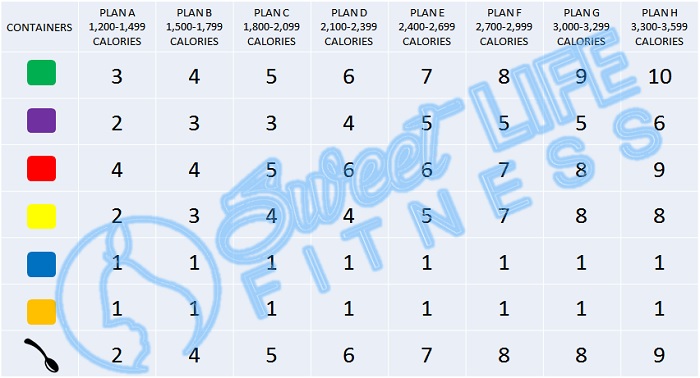 Each plan on the chart above is color-coded to match the 7 containers, with the number of portions per container listed next to the colored square. For example, if you have a 3 next to the Green square, that means you'll be filling the Green Container three times per day.
Sometimes your calories may vary day-by-day. That is OKAY and it should all average out and you'll still maintain a caloric level suitable to your goals with the Hammer and Chisel nutrition plan.
NOW the Next Step…Step 4
Check the FOOD LISTS starting on page 18 of your Hammer and Chisel Book that you get for free when you purchase the program.
Pick your food item off the list and fill the corresponding colored container with the item based on the prep method (cooked, raw, chopped, etc).
In the case of unusually shaped foods, serve the amount listed. For example, with asparagus, serve 10 spears instead of trying to fill the container.
Oh Crap! I'm feeling Hungry and/or Sluggish with the Hammer and Chisel Nutrition Plan!
If you're feeling hungry, don't fear my friends! It's OK! Try adding FIRST an extra GREEN CONTAINER or a RED CONTAINER to your plan, or if you are feeling sluggish, try adding an extra PURPLE CONTAINER or a BLUE CONTAINER.
Now the Real Deal: How to get the BEST Hammer & Chisel Results
Are you looking to achieve the absolute BEST Master's Hammer & Chisel Results? Ya know, the kind that make you look and feel like the Masterpiece that you KNOW you are? Like B.J. from Team Sweet Life achieved?
Then THIS page is one of the most important pages that you need to review and follow daily. 80%…yes 80% (and I'm no math expert, but that's a HUGE number!) of your results come from proper nutrition. (See more about proper nutrition at Bodybuilding.com)
Hint Hint…that means maximize and use and abuse this simple yet effective plan.
To ensure you get the BEST results:
Ready to ROCK your Masterpiece? Get it now at the best price, and I'll be your FREE Coach for support, and plug you into our FREE private support group (only available to those who get this program with me as their coach – I want to help you succeed personally!).

Do You have Questions about the Hammer & Chisel Nutrition Plan?
Comment below and let's chat!
Yours in Masterpiece Success,
Coach Bob